Basic Grading Criteria

First Setup/Onboarding: 4

Adding Favicon without needing to convert: -1

I have to upload my Favicon somewhere and link to it…😕

Guide/method for tracking analytics (visits): 0

Setup guide for custom URL: 0

 

 
By far one of the most professional feeling of all the tools, but felt lacking in customization.
The bonus came in the form of being the only tool on this list that allows you to hook up a custom domain without entering credit card details. (7 day free trial.)
Great for a quick concept test with a custom domain, I didn't end up using it past that.
Let's kick it off -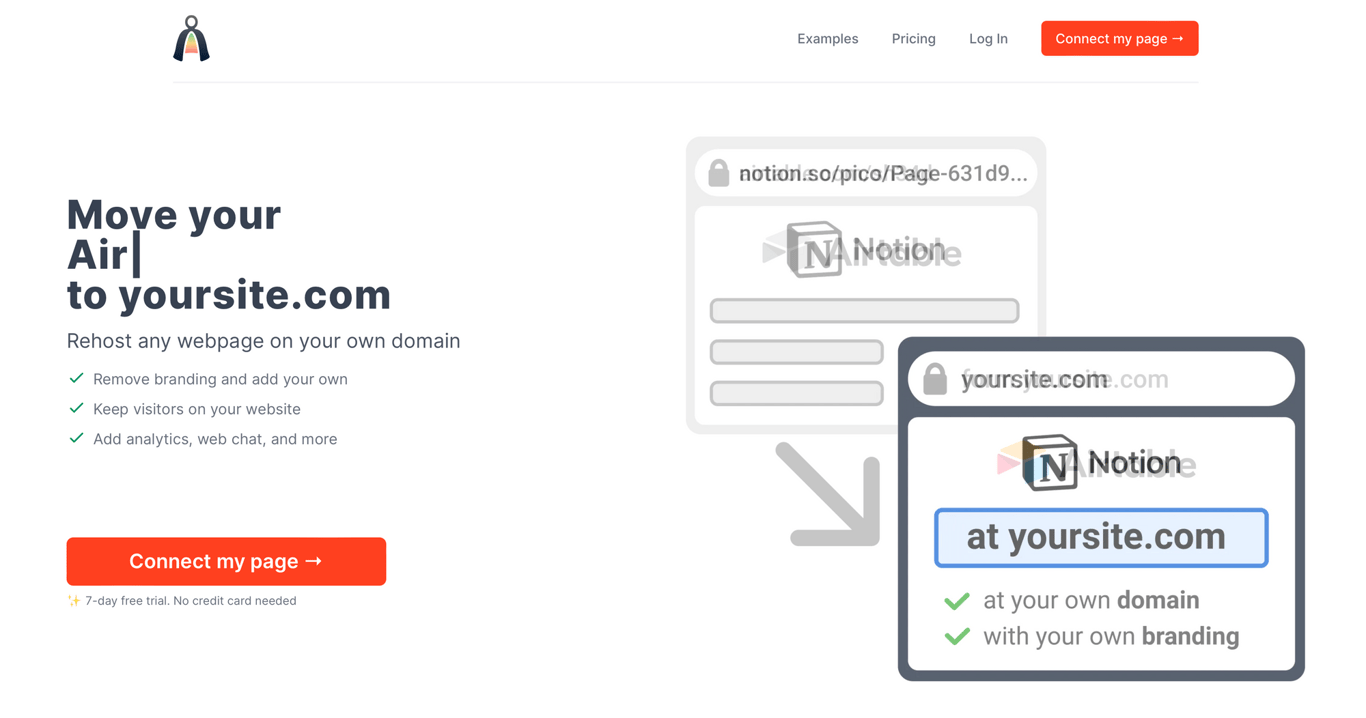 Pretty solid landing page, I think my only 'ask' would be to paste my domain in on this page. (Really proves the point you can try before you buy.)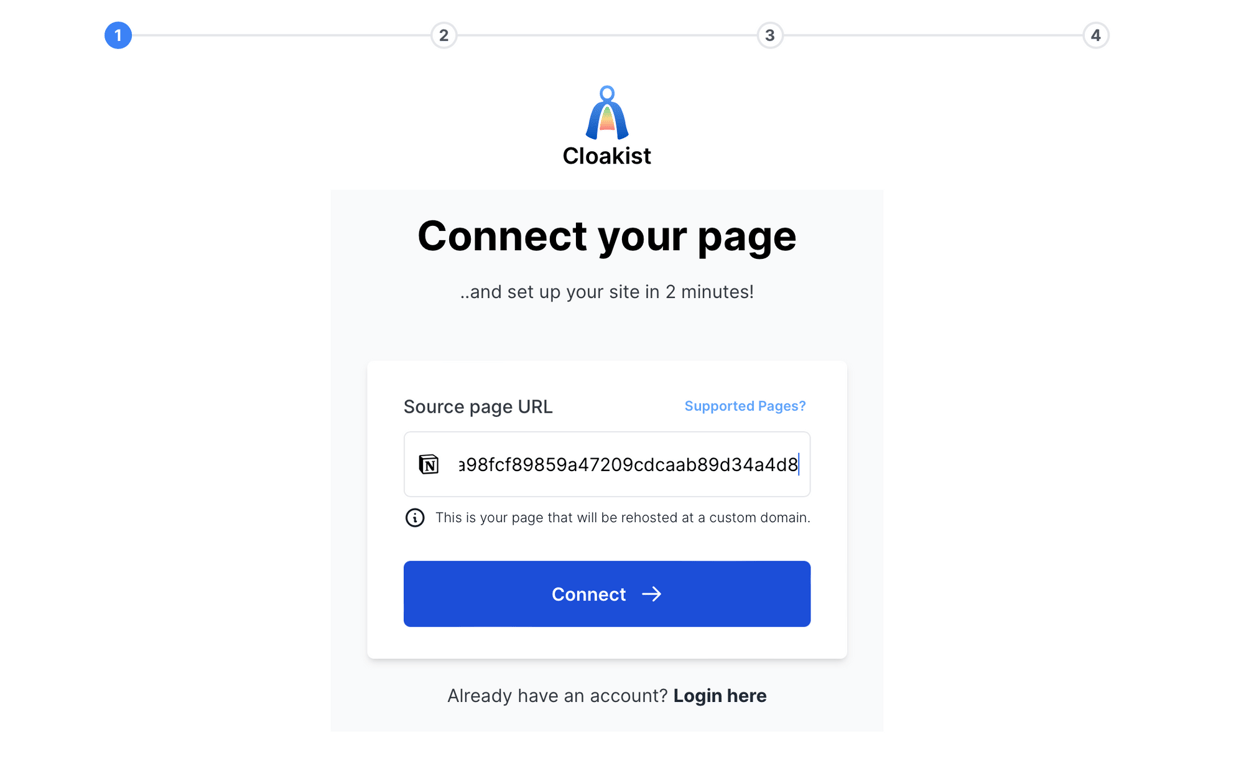 Awesome, easy. No comments here, this is simple. I like the link to the docs here.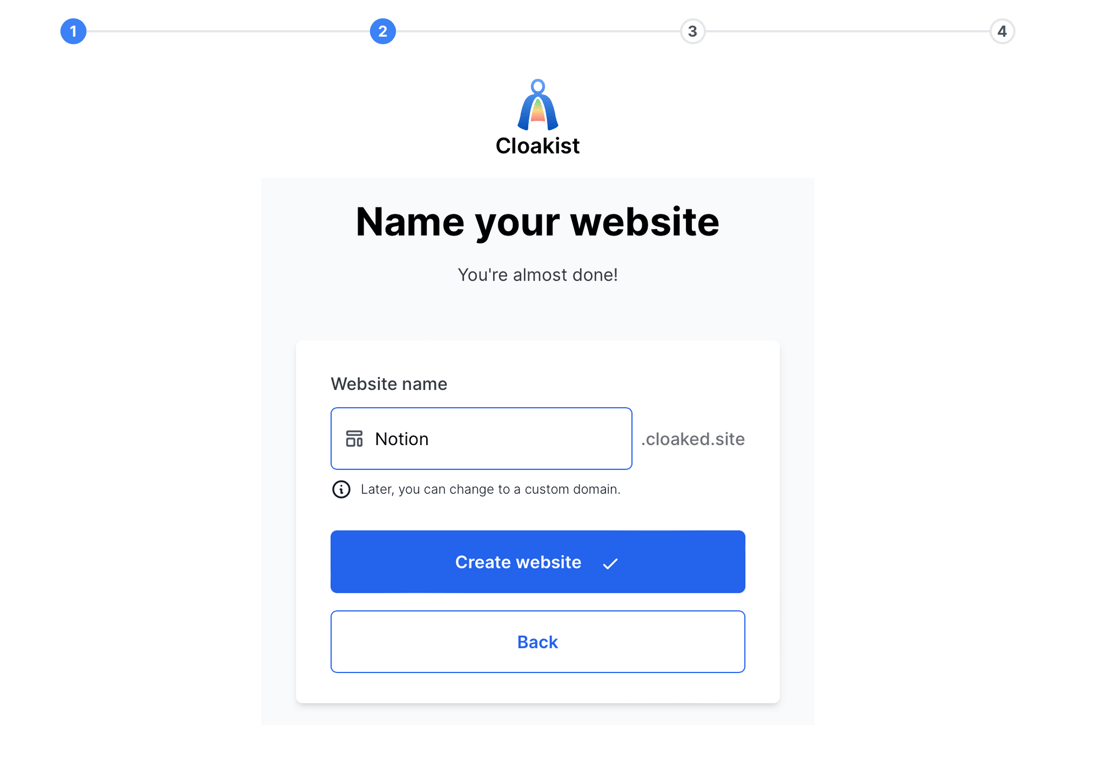 Somehow Notion.cloaked was available.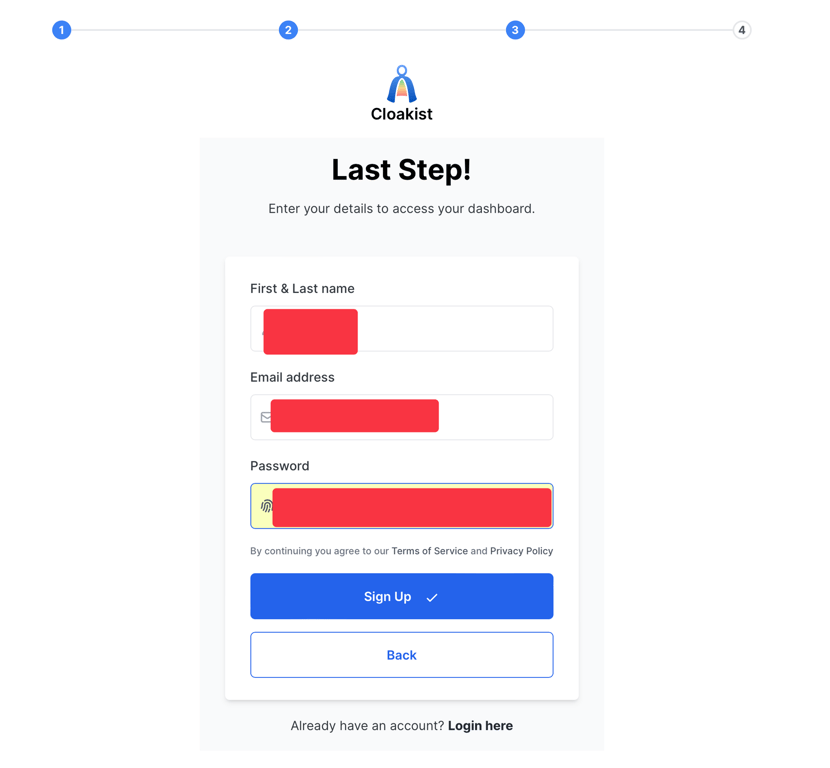 Eh, feel like asking for First & Last name is so 2010. Tired of my personal information flying everywhere. Why bother asking?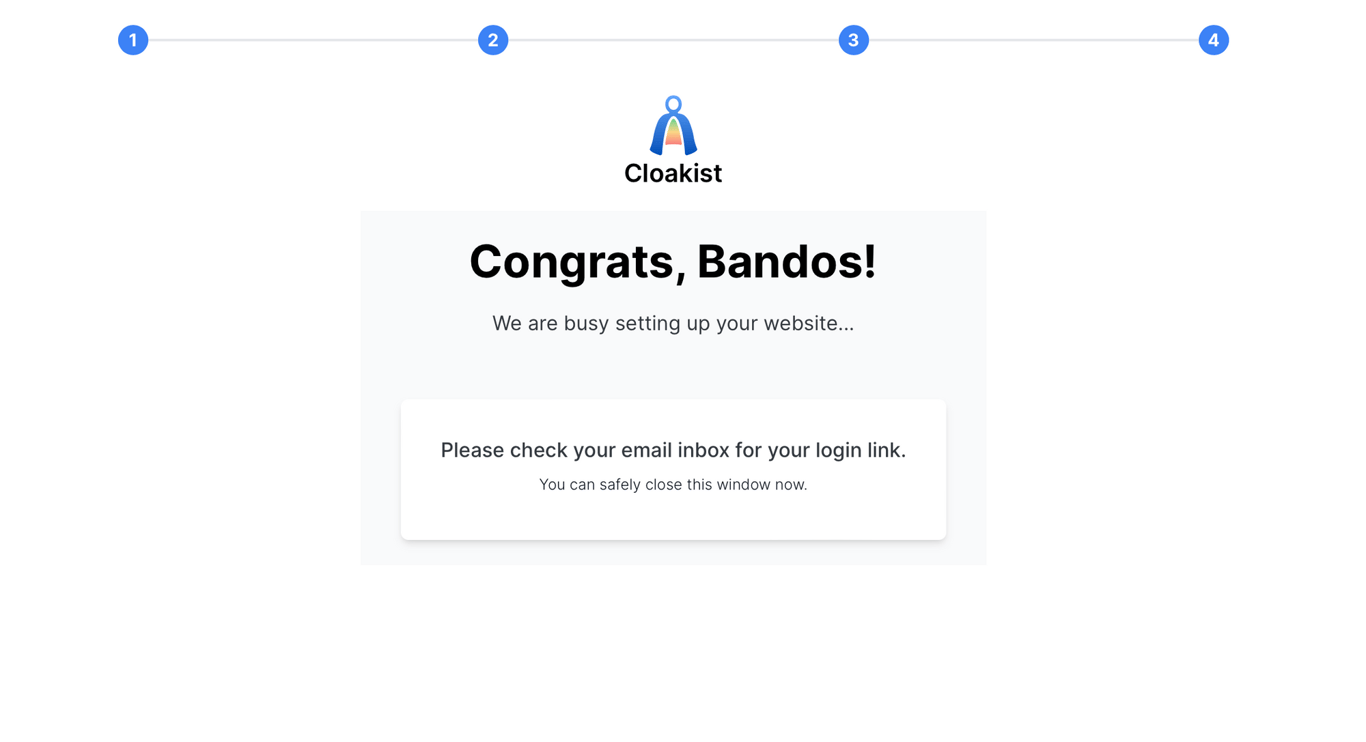 Solid ending screen. Wish there was some confetti. 🎊 (But like I said at the intro, this is the most professional/serious tool)

They sent me this email, then…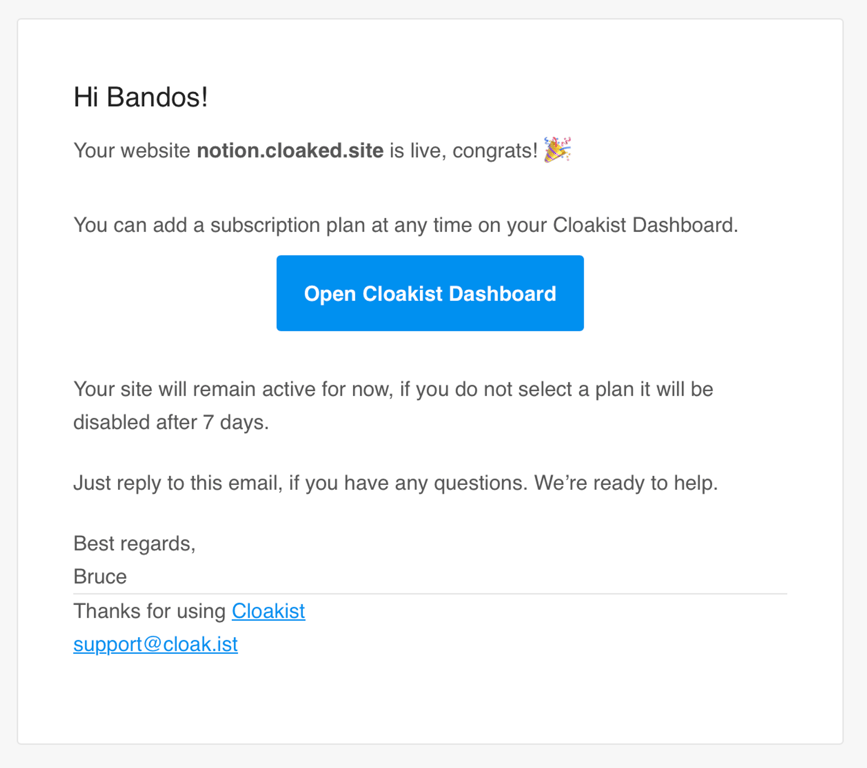 This one. Which slightly annoyed me, but I understand why. Just wish it wasn't 2 emails.
One told me to verify my account, one told me my site is live.
On to the dashboard!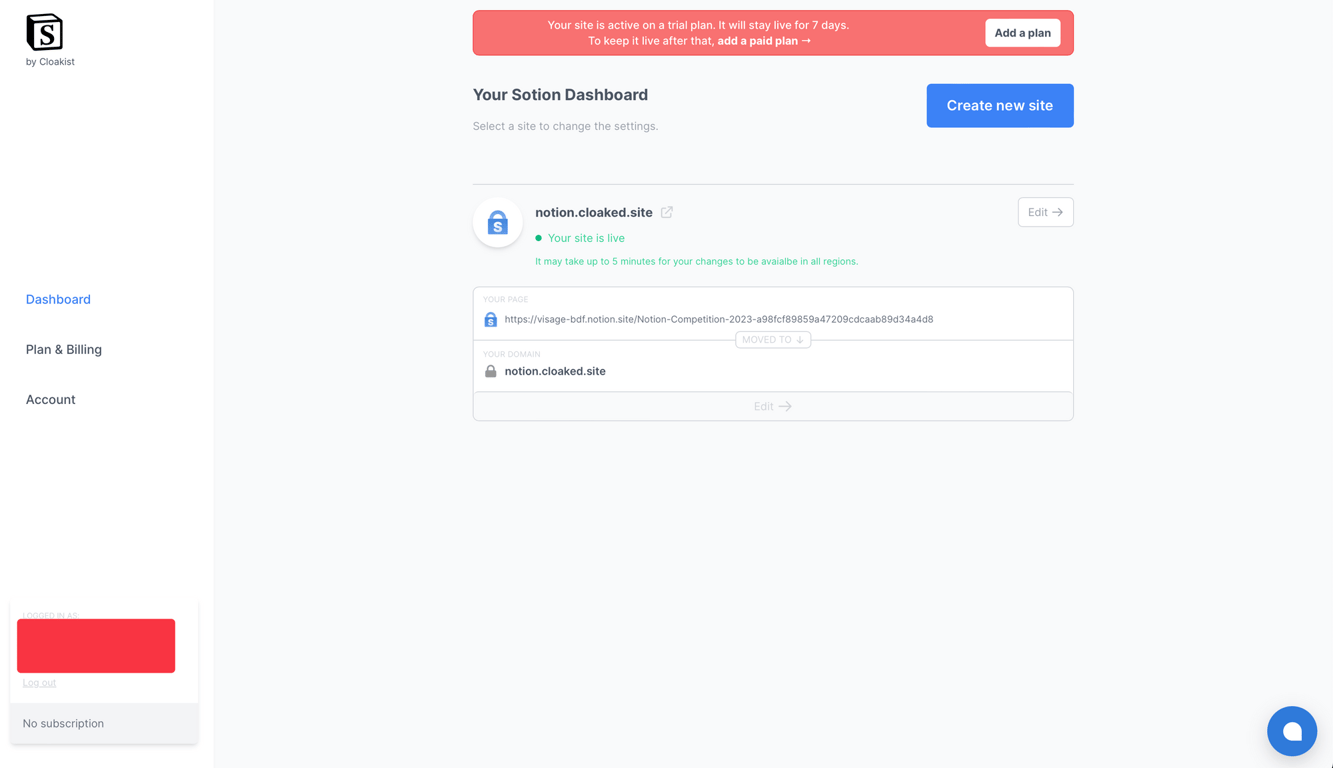 Very minimal, very simple. Imagine this looks better with multiple sites on it.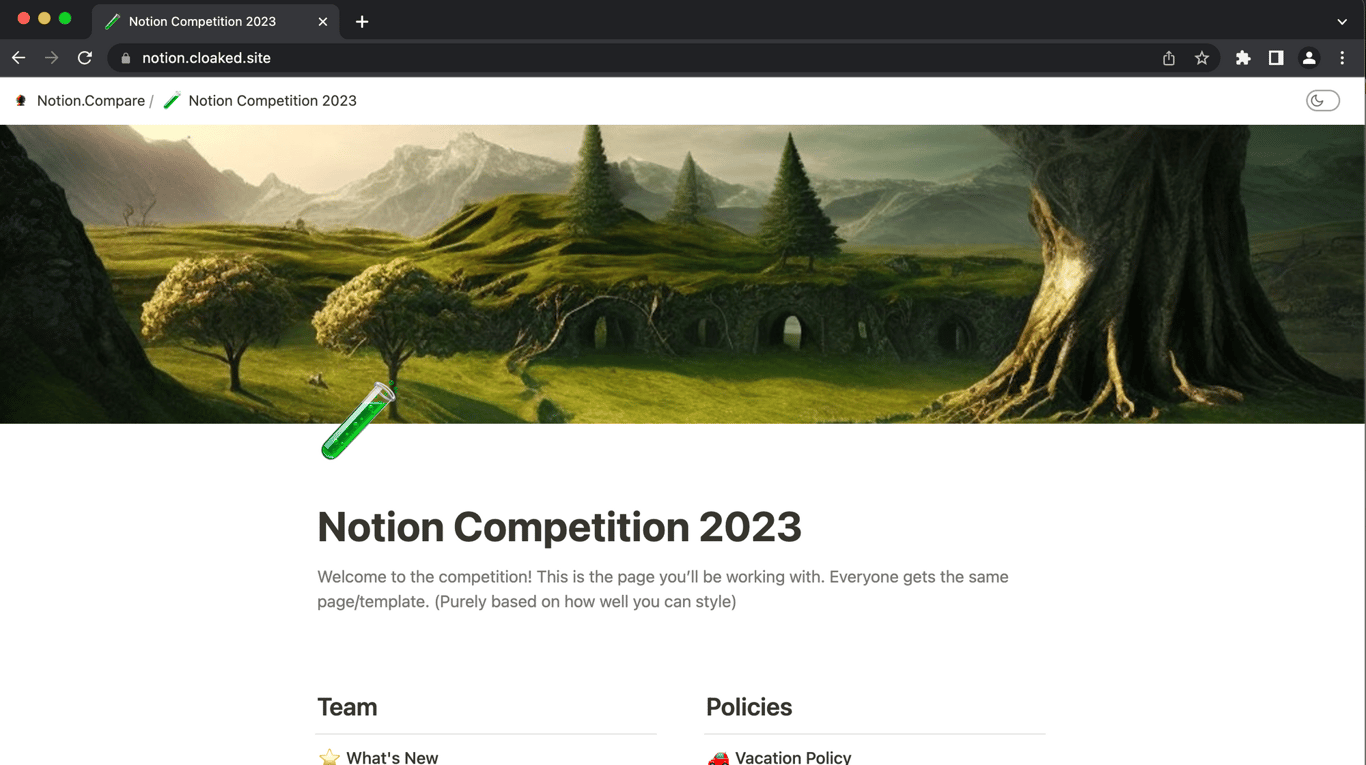 And we are live! Can't say I'm not impressed. It's the little things (Favicon pulling from page icon….and)
Dark mode!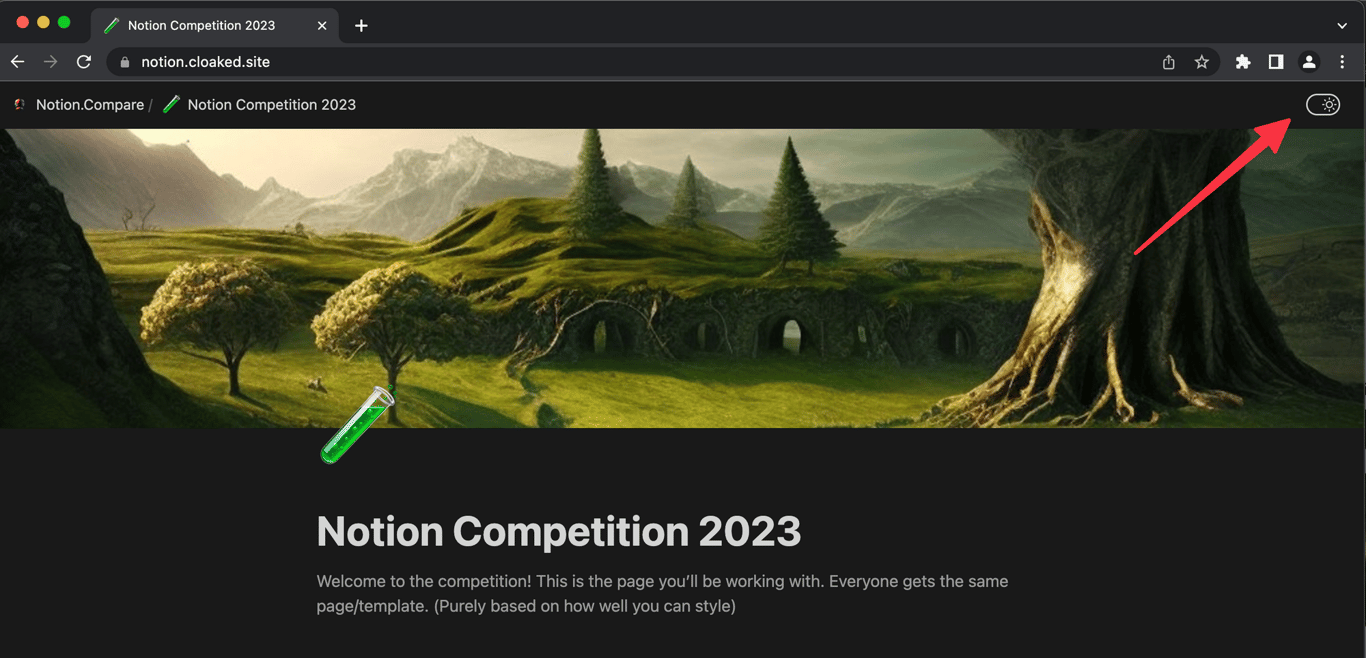 Tested and it worked with databases, callouts, everything. Very flawless.
Back to the dashboard..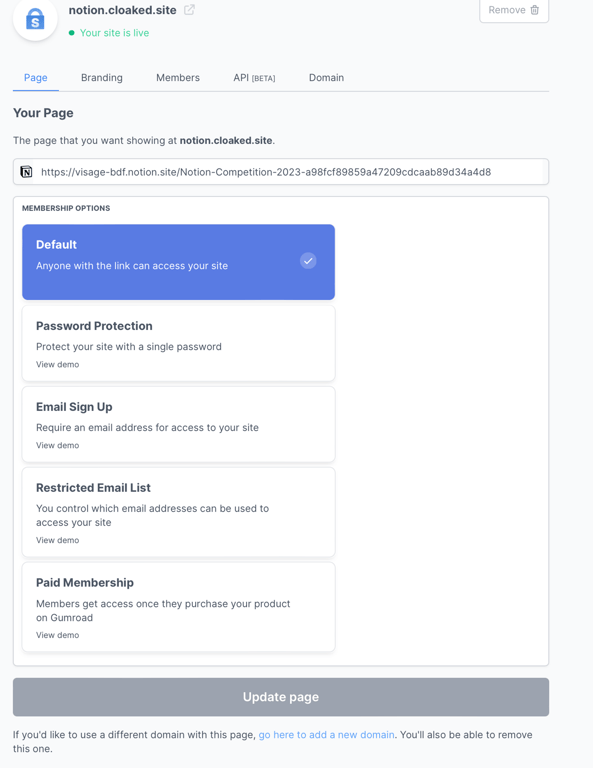 I'm very impressed, these are all available for the 7 day free trial. Including…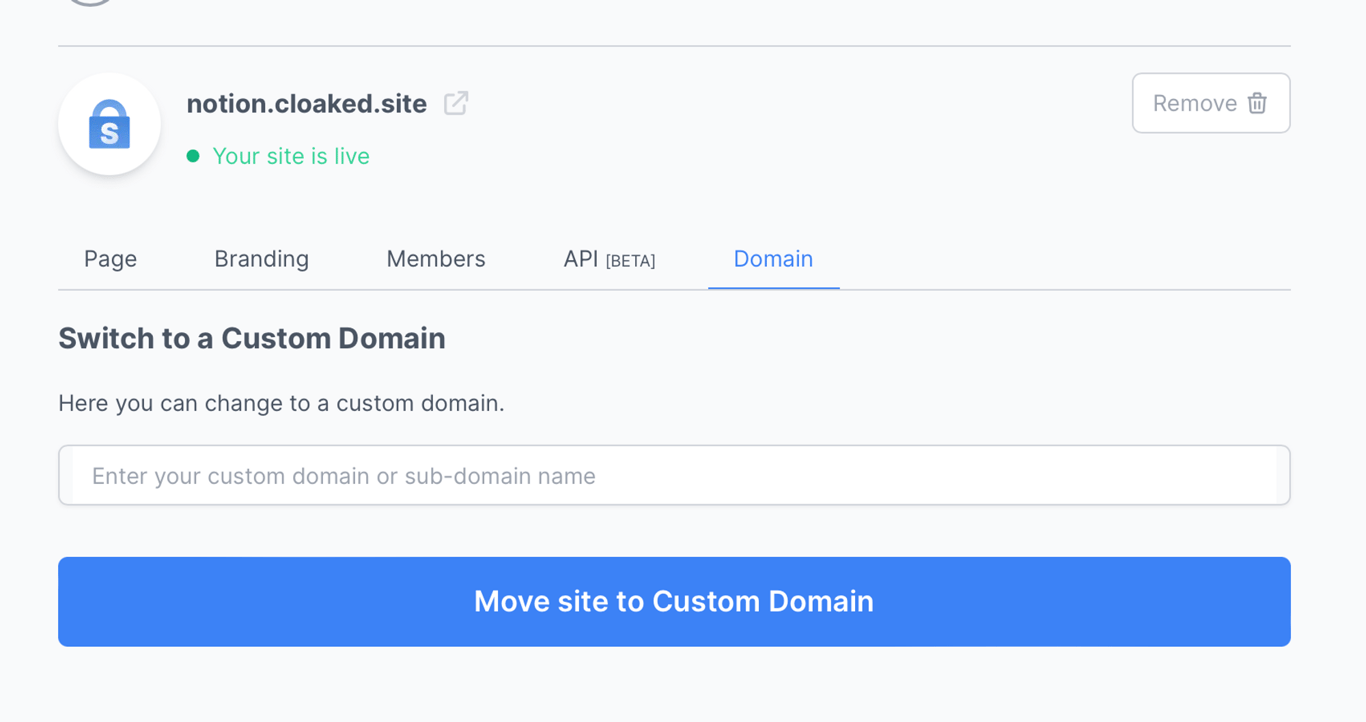 That's right, linking to your own custom domain without every putting in payment details.
Onto the branding portion - I'm putting this into a Expand since it's a lot.
Branding Screen
As you can see..I wasn't joking when I said this was a professional powerhouse.
Now, onto some bad news. I ran these each twice due to the results.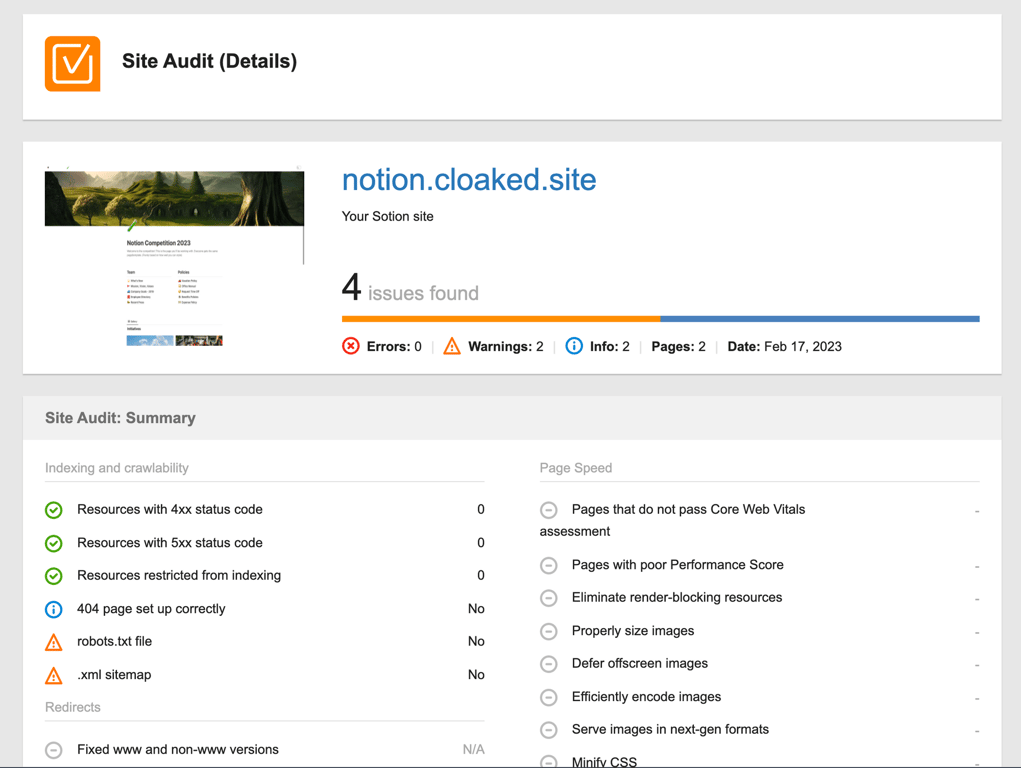 Pretty major error for a tool of this calibre. I see it as a very 'for B2B' tool, and it's missing some critical functions here.
Loading speed…………….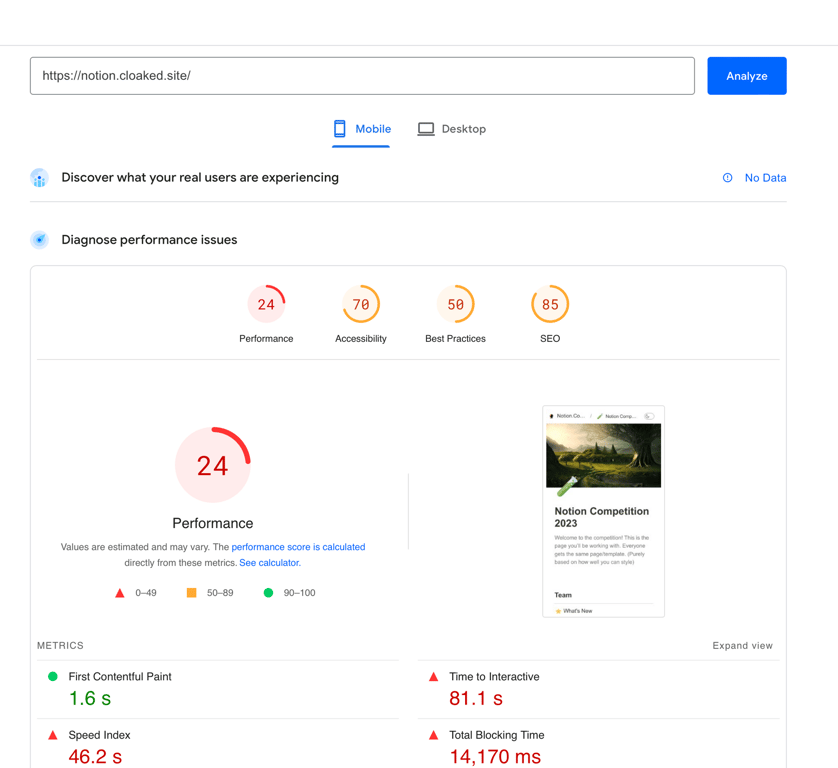 I ran this twice, not sure what's going on.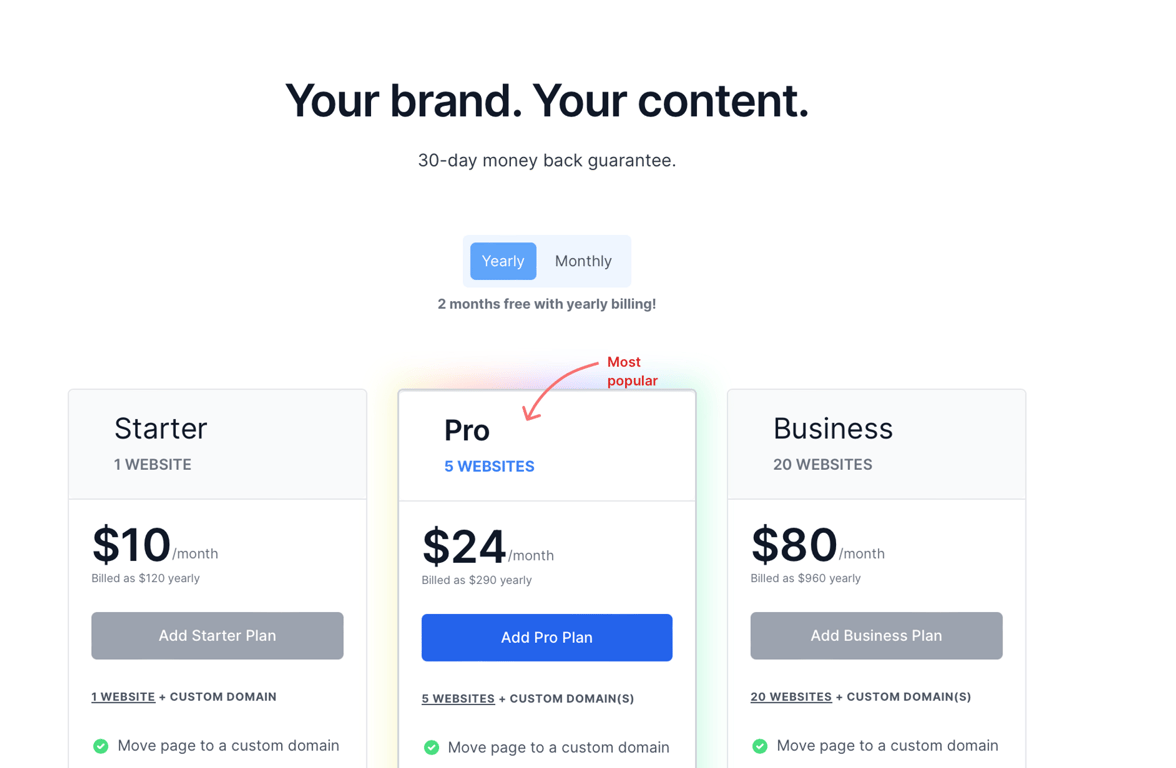 And that's the review of Cloakist! Very customizable and solid tool for Notion…but for $10/month, I really need a better SEO/audit experience. Frankly, I'm surprised at this result. I expected some quick (or better than competitors) results.
Like this review or want to see it updated? Get in touch with me on Twitter: @
Bandos_1000
Disclaimer: The information provided on this website is for general informational purposes only and should not be construed as medical advice, legal advice, or professional advice of any kind. The website owner is not a medical professional, and the information provided on this website should not be used as a substitute for medical advice from a licensed healthcare provider.
Affiliate Disclaimer: Some of the links on this website are affiliate links, which means that the website owner may earn a commission if you click on the link and make a purchase. The website owner recommends products or services that he/she believes will be of value to the website users, and any commission earned helps to support the website creator or team.
Copyright Notice: The content on this website, including text, images, graphics, and other materials, may be protected by copyright laws unless otherwise noted. The website user may not reproduce, distribute, or modify any of the content on this website without the prior written consent of any applicable parties.
Fair Use: This website may contain copyrighted material that has not been specifically authorized by the copyright owner. This material is made available for the purposes of criticism, comment, news reporting, teaching, scholarship, or research, which are considered fair use under copyright law. The website owner believes that the use of any such copyrighted material on this website constitutes fair use as defined by the law.
Limitation of Liability: The website owner is not responsible for any actions taken based on the information provided on this website. The website user assumes full responsibility for any consequences resulting from the use of the website. In no event shall the website owner be liable for any damages arising from the use of this website or the information provided herein.
Indemnification: The website user agrees to indemnify and hold the website owner harmless from any and all claims, damages, expenses, and liabilities arising from the use of this website or the information provided herein.