Basic Grading Criteria (5.5/10)

First Setup/Onboarding: .5

Adding Favicon without needing to convert: 2

I actually love this, it uses the Notion page Emoji.

Guide/method for tracking analytics (visits): 1

Setup guide for custom URL: 1

They have a full page of how to setup with a video guide, pretty solid! Still annoyed I can't play with my page while I wait for DNS propagation.

Dark mode/theming: 1

The lack of theming was actually what I liked on this.

 
The ultimate Minimal Notion Custom domain tool. Ugly URLs, but fast loading.
Onboarding: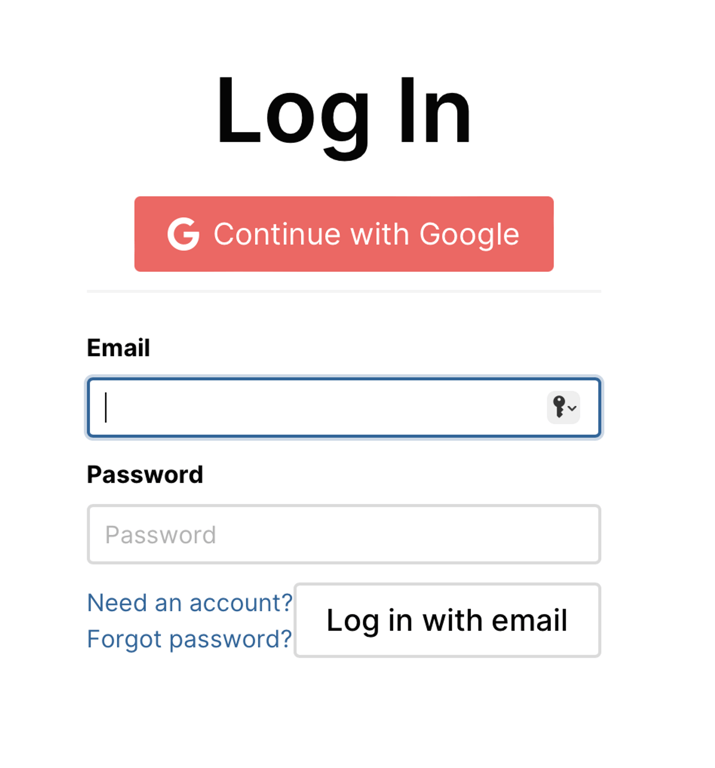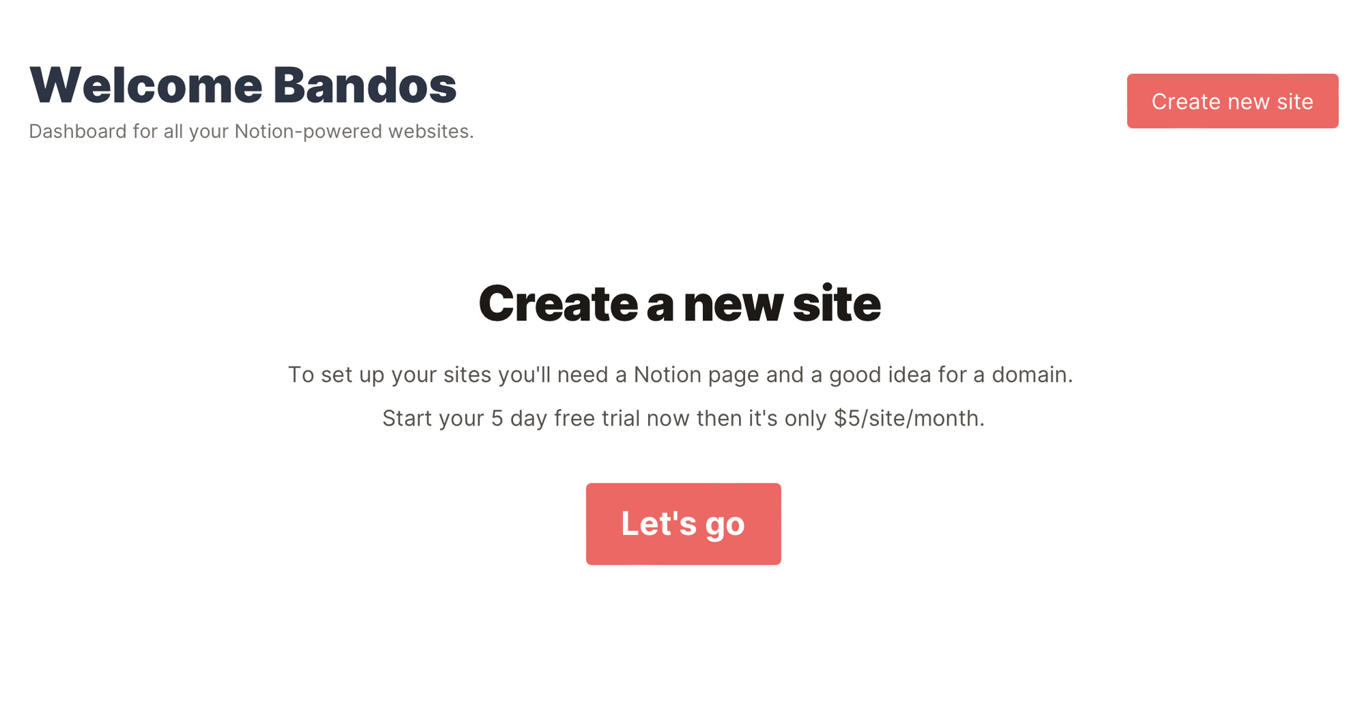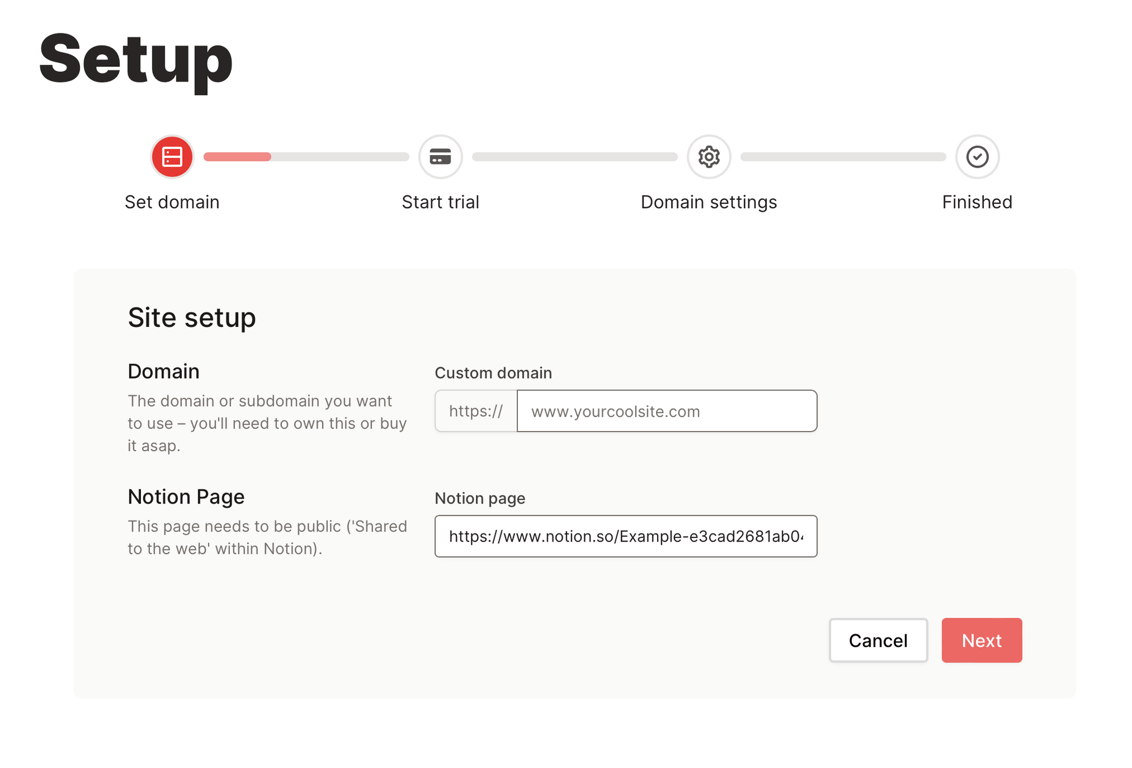 This iconography ROCKS: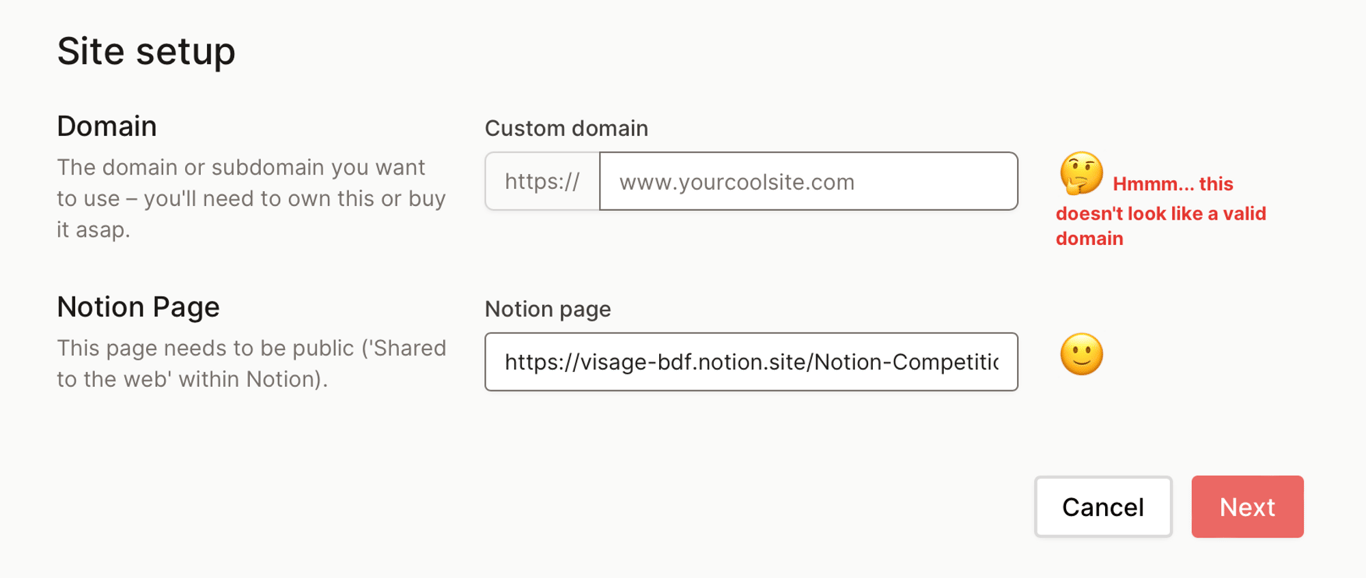 However, it stumbles a bit here. I wish I was able to use this at a
name.hostnotion.co
domain. I also wish it autofilled with random text.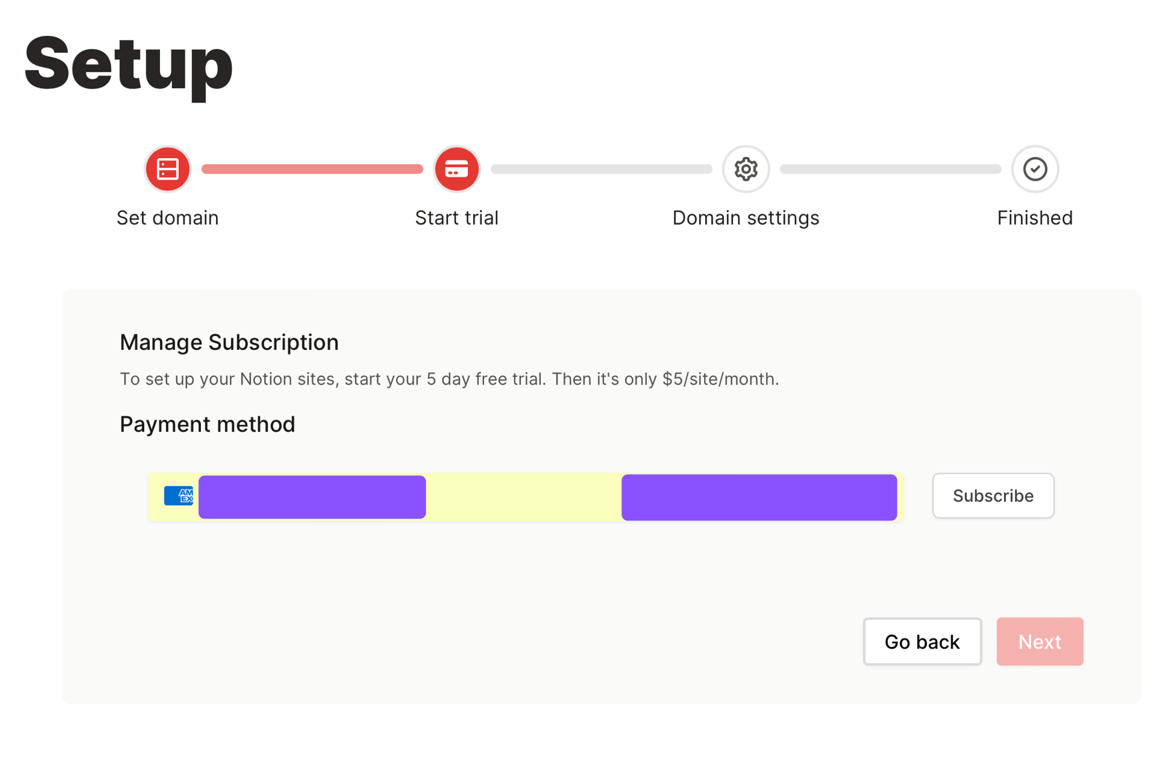 Also oof, have to start a free trial to even TEST this tool. That's a bit scary for me. I literally just got a non-refundable Stripe charge for a tool that has no cancellation option last week.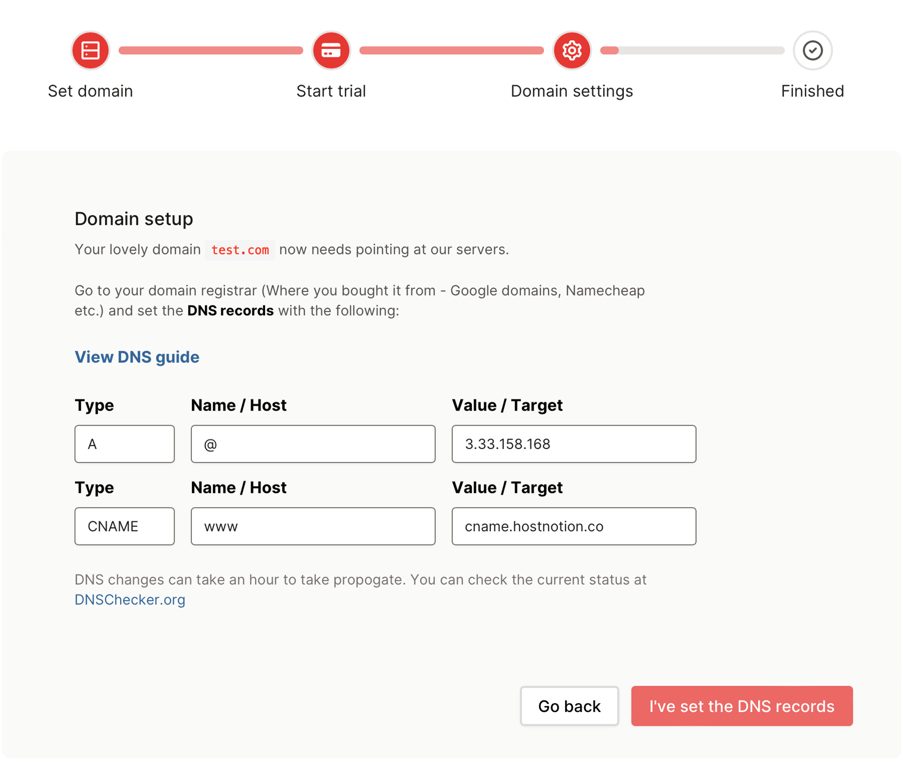 This is a bit confusing for me. I dislike setting the domain name 2x. (Step 1 I gave domain, now I'm doing it again.)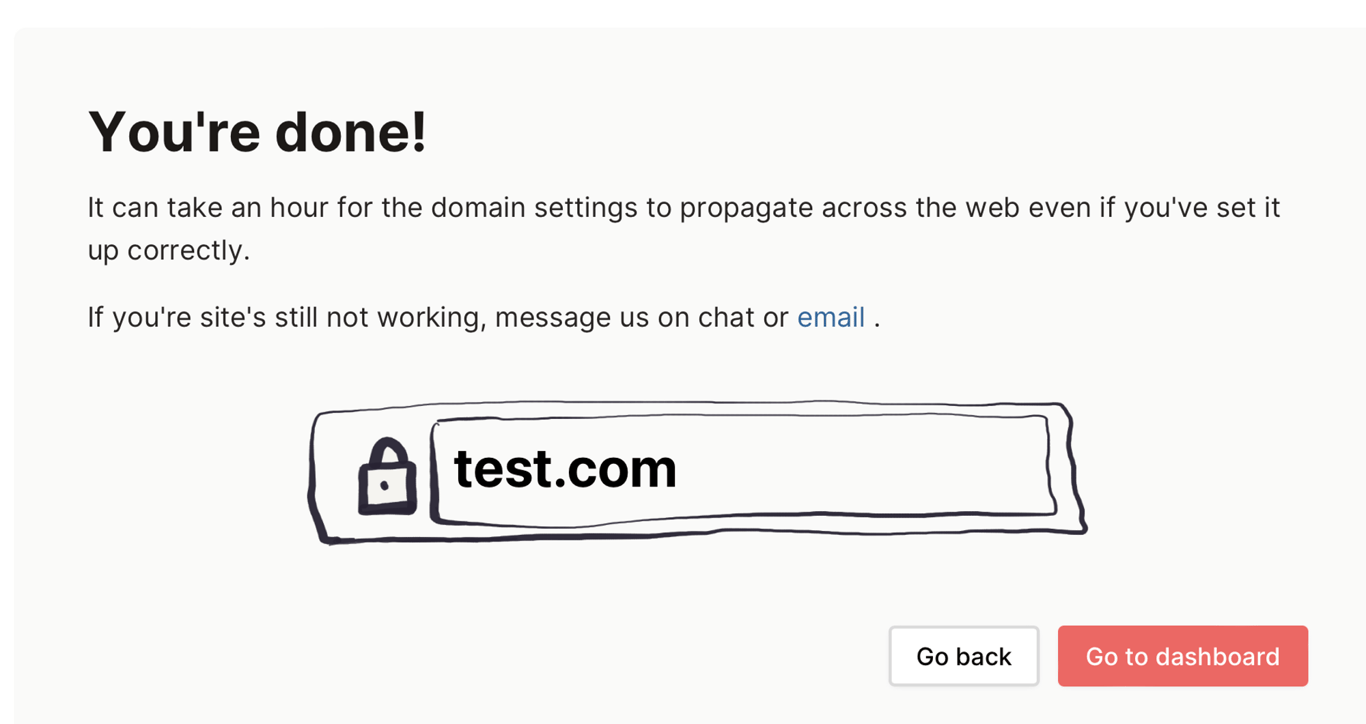 Hmmm..ok let's go to dashboard.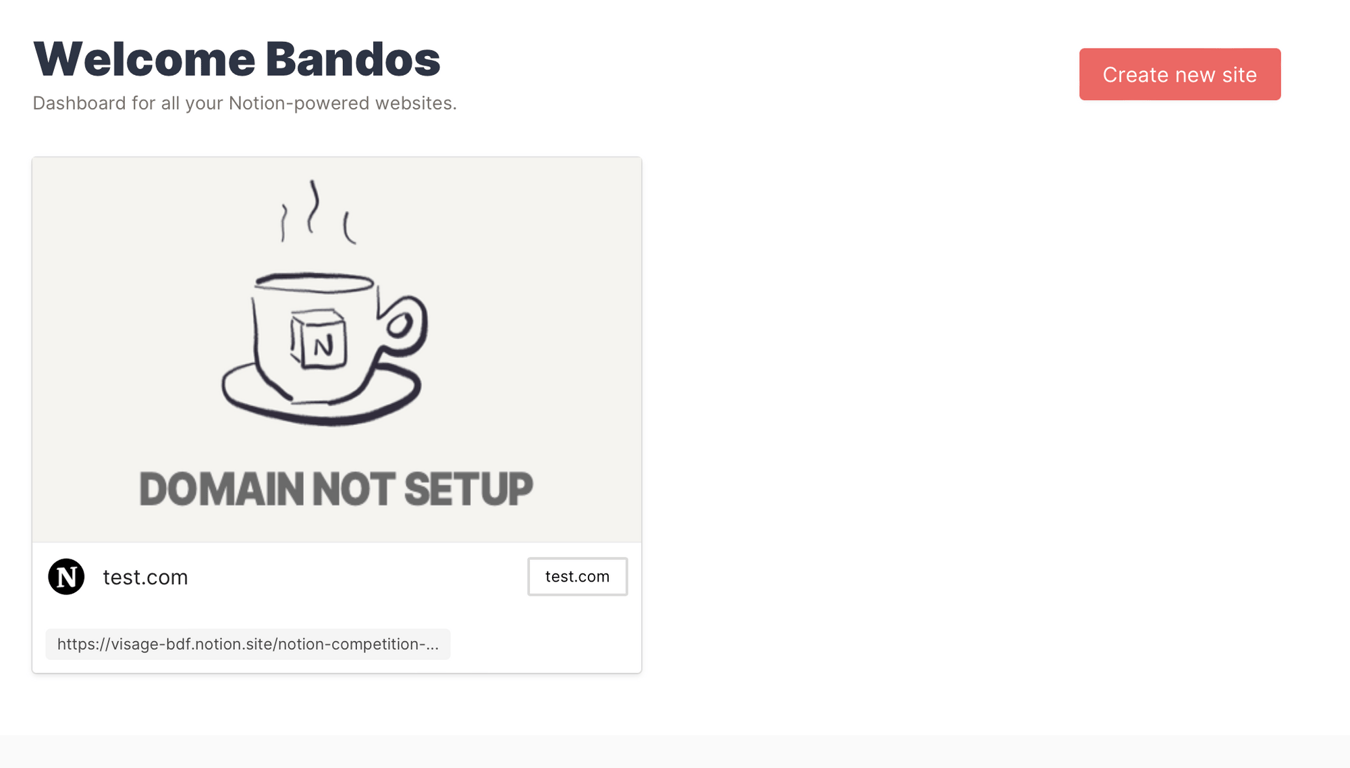 Ok, so tried clicking. I cannot go to my site to peek without linking it to a domain. (Which is a whole thing.)
Will link to domain and come back in an hour. This really disuades me from continuing this tool. We'll hook it up to
gpt4.lol
for the entertainment value.
(5 minutes later)
Ok we're back with some bad news.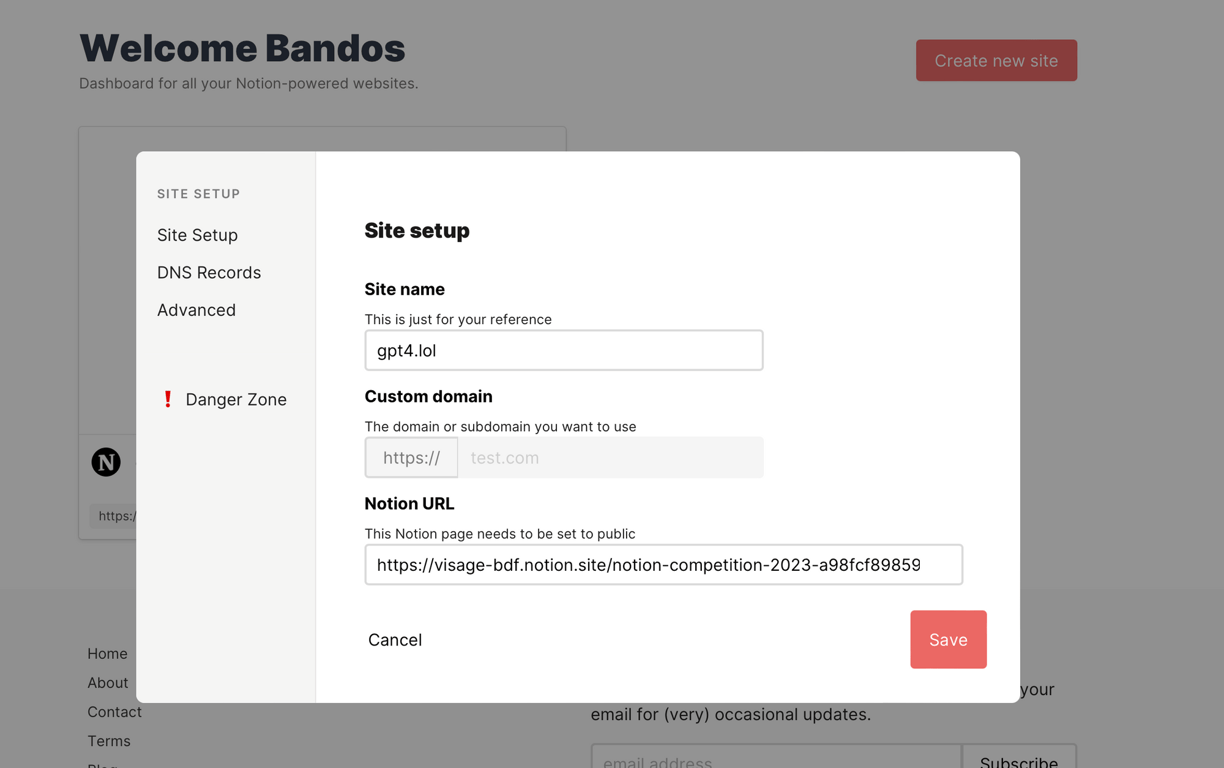 I've tried to input my url and save, and it's not letting go of test.com. Back to the drawing board of creating a new site.
Here we goooooo, back to the start -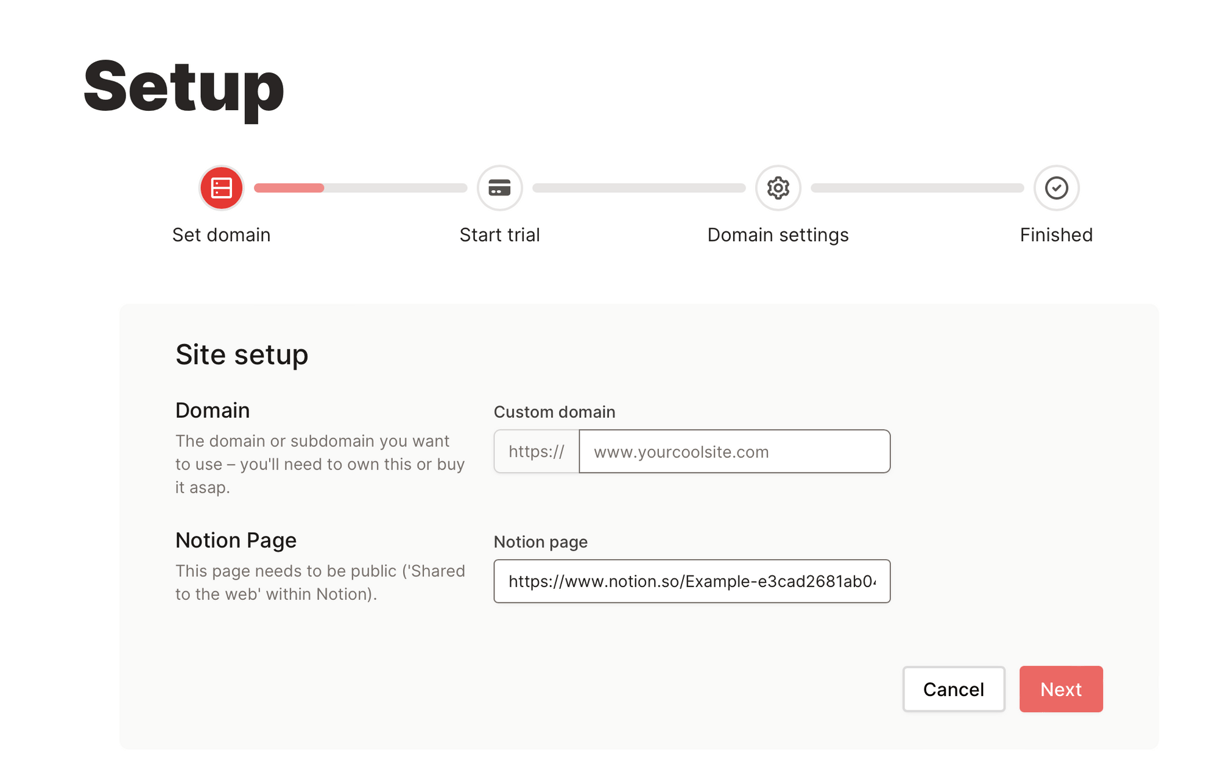 Ok, we are back.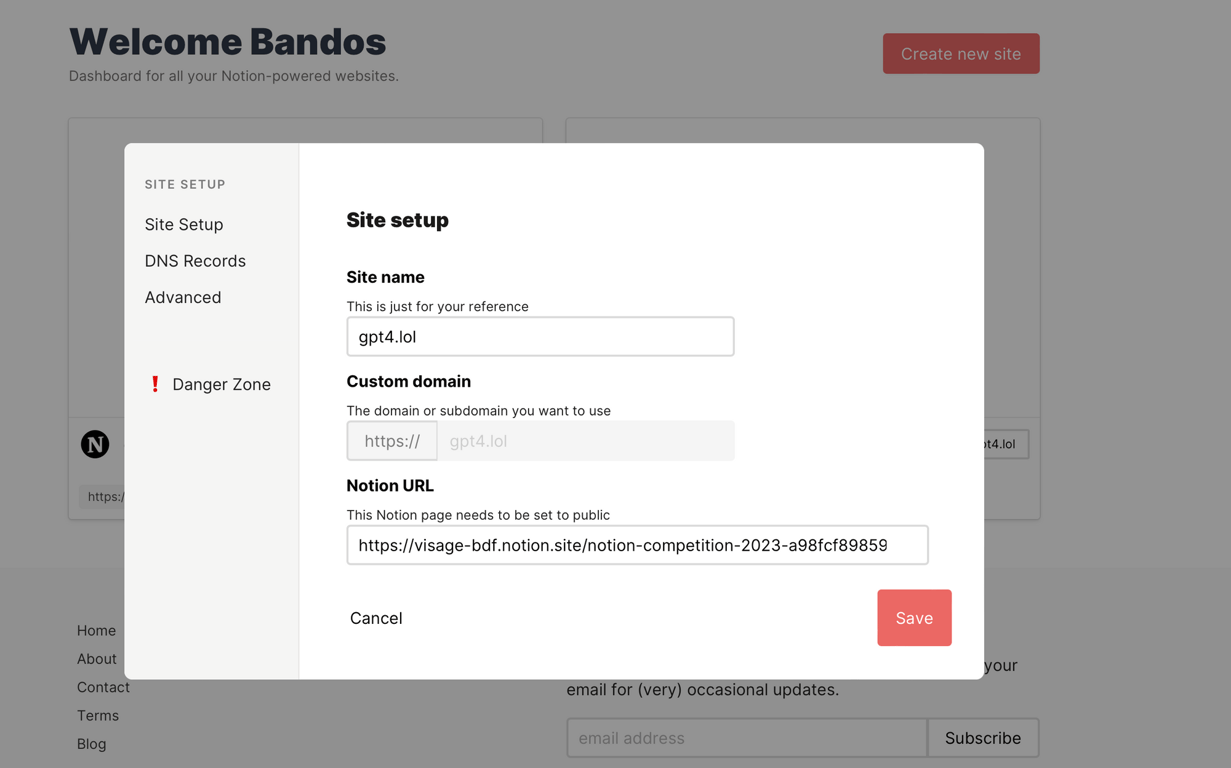 Now that this is setup, I will wait 1-2 hours for the DNS records to reflect. Frustrated I can't continue building/see how my site would look until this is finished.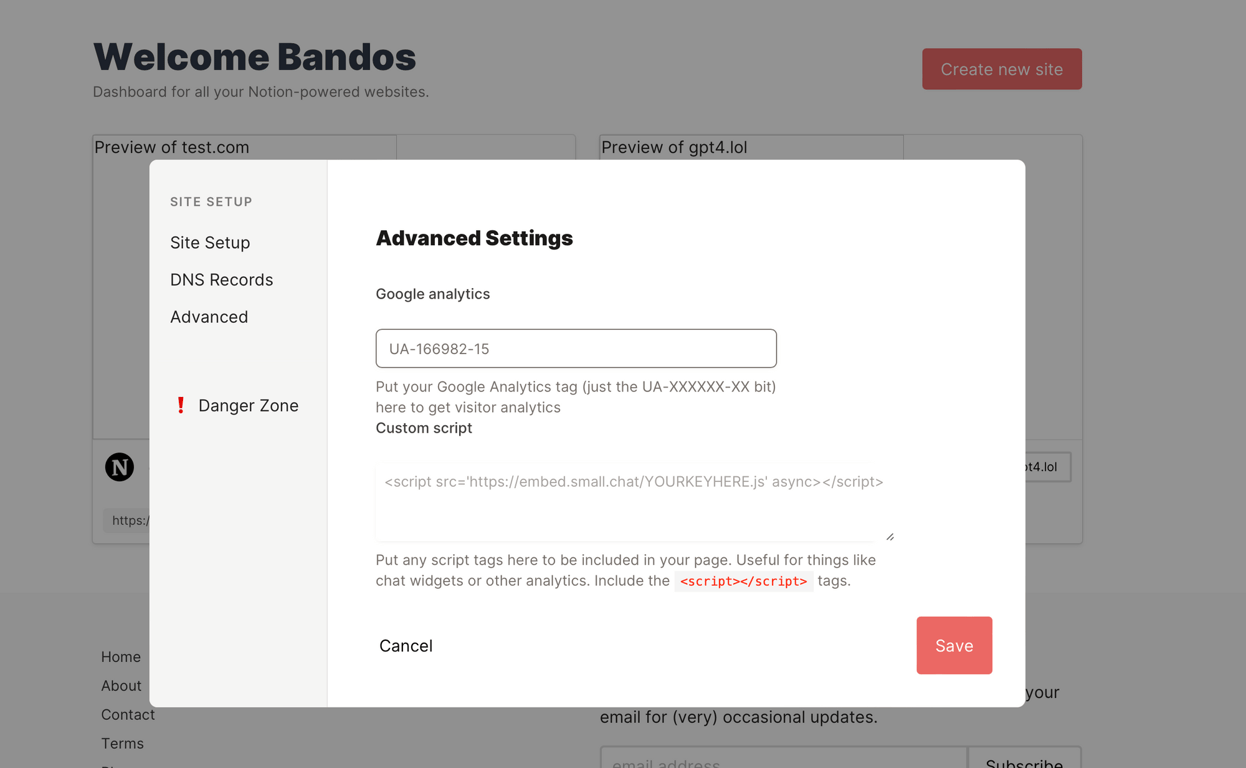 While we wait, I dig this simple page. However, I would like other options that GA4. (Due to CCPA/GDPR compliance. Would love to see a
Beam
recommendation here for easy compliance, along with a setup guide.)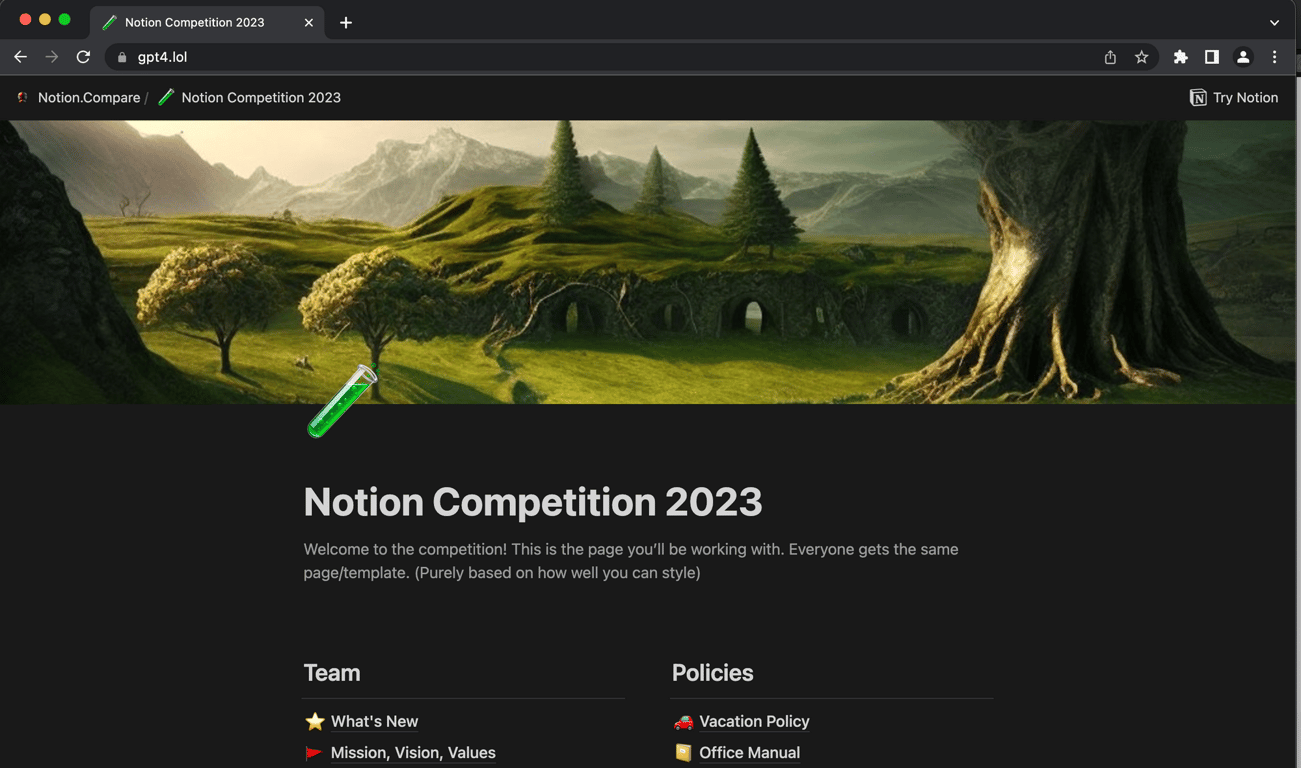 We are LIVE! Checked back in a few hours later. I REALLY like how it kept my Dark notion theme.
One interesting item, the settings menu didn't get anything added. Just URL, and Google Analytics/Script box. That's it. I really dig the complexity. Time for the audit!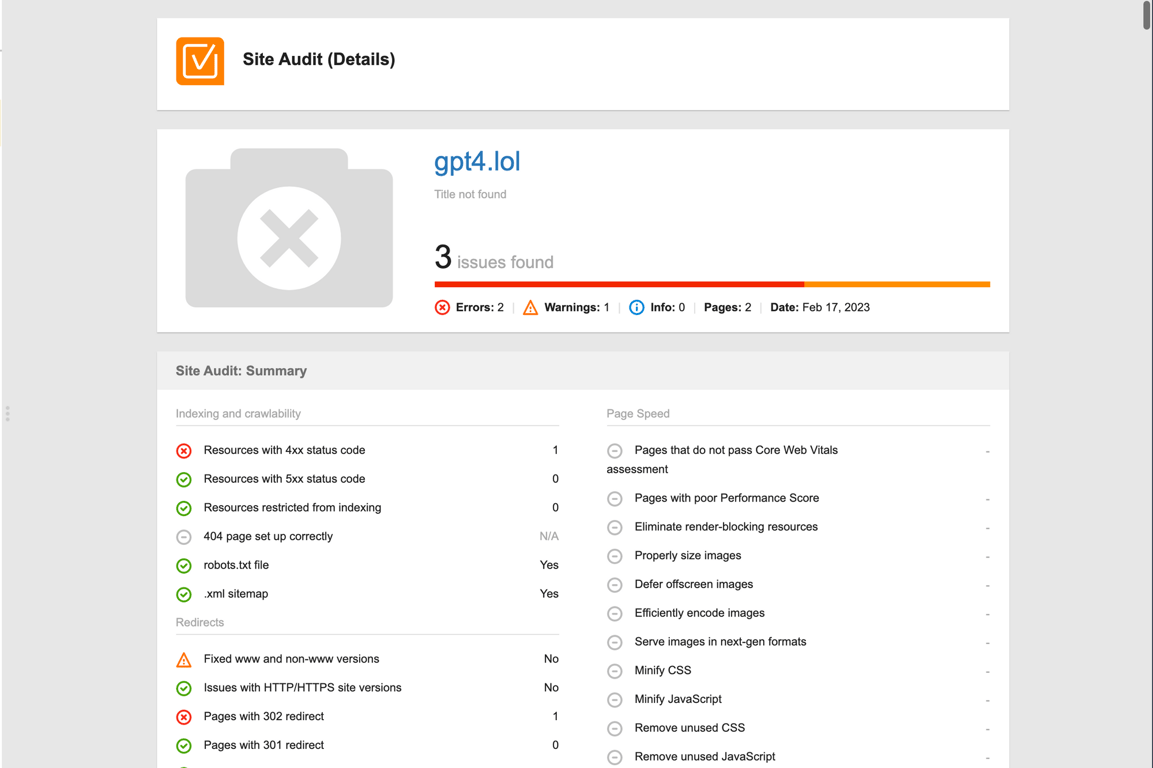 I'm a bit concerned with this, it also didn't map my pages out on the sitemap. (Wonder if this impacts SEO/indexing.)
Fairly confident it's due to only the top URL not being resolved. See the image below.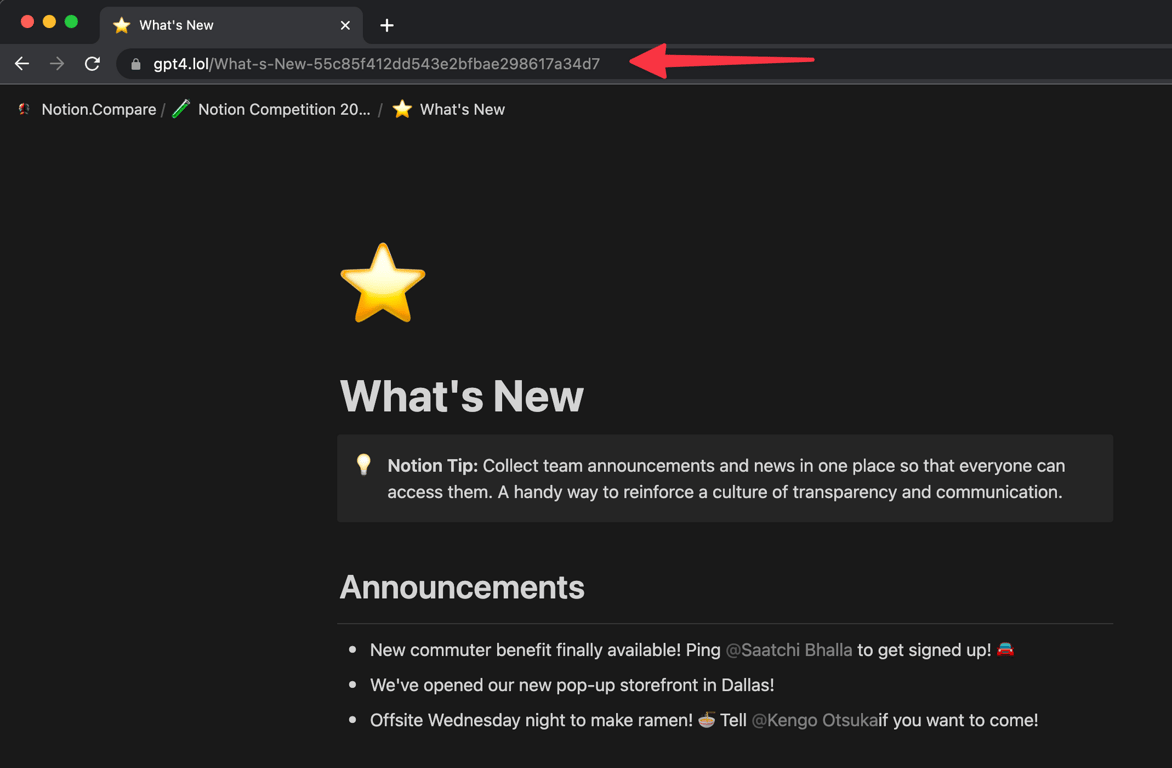 This URL really bothers me. Why is it not cleaned up? I was rocking with this tool until I saw this issue + the lack of sitemap.
I now feel a bit of confusion - What's the major difference between using HostNotion and just creating a redirect from
gpt4.lol
to my Notion domain?
In other news…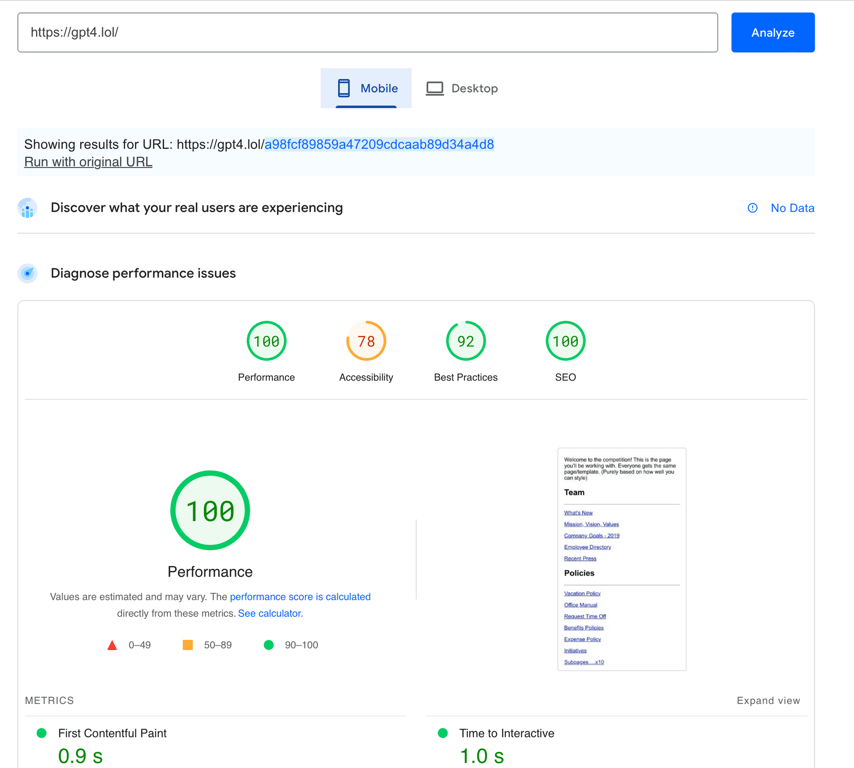 It nailed the page speed test! So, you may have a very ugly URL, but you'll have some solid speed.
---
That's it! That's the review. In short, very…minimal tool that fell short on the url portion for me.
If the URLs were pretty, and it nailed the sitemap, I'd be willing to pay (not $5/site) for it.
---
Want this review updated? Or want to contribute? Get in touch with me on Twitter: @
Bandos_1000
Disclaimer: The information provided on this website is for general informational purposes only and should not be construed as medical advice, legal advice, or professional advice of any kind. The website owner is not a medical professional, and the information provided on this website should not be used as a substitute for medical advice from a licensed healthcare provider.
Affiliate Disclaimer: Some of the links on this website are affiliate links, which means that the website owner may earn a commission if you click on the link and make a purchase. The website owner recommends products or services that he/she believes will be of value to the website users, and any commission earned helps to support the website creator or team.
Copyright Notice: The content on this website, including text, images, graphics, and other materials, may be protected by copyright laws unless otherwise noted. The website user may not reproduce, distribute, or modify any of the content on this website without the prior written consent of any applicable parties.
Fair Use: This website may contain copyrighted material that has not been specifically authorized by the copyright owner. This material is made available for the purposes of criticism, comment, news reporting, teaching, scholarship, or research, which are considered fair use under copyright law. The website owner believes that the use of any such copyrighted material on this website constitutes fair use as defined by the law.
Limitation of Liability: The website owner is not responsible for any actions taken based on the information provided on this website. The website user assumes full responsibility for any consequences resulting from the use of the website. In no event shall the website owner be liable for any damages arising from the use of this website or the information provided herein.
Indemnification: The website user agrees to indemnify and hold the website owner harmless from any and all claims, damages, expenses, and liabilities arising from the use of this website or the information provided herein.