Basic Grading Criteria (10 pt max)

First Setup/Onboarding: 3 (Amazing!)

Adding Favicon without needing to convert: 1

Guide/method for tracking analytics (visits): 0

Setup guide for custom URL: 1

Dark mode/theming: 1

Took a min (60s) to reflect on the actual page

 
Wow! I'm excited for this one. My 6th review and still enjoying Notion. I had a realization over the last few days that the part that stands out when using Notion builders is that your content is never effected. If you use any other no-code builder (like Framer or siter.io), you run the risk of the business disappearing…along with your content and setup. With a custom Notion domain, your content is always safe in Notion.
I've been following
this founder
for a while, and it looks like they are taking on other projects. Despite this, they look to be committed to
simple.ink
for the long-haul.
Let's jump right in with their landing page.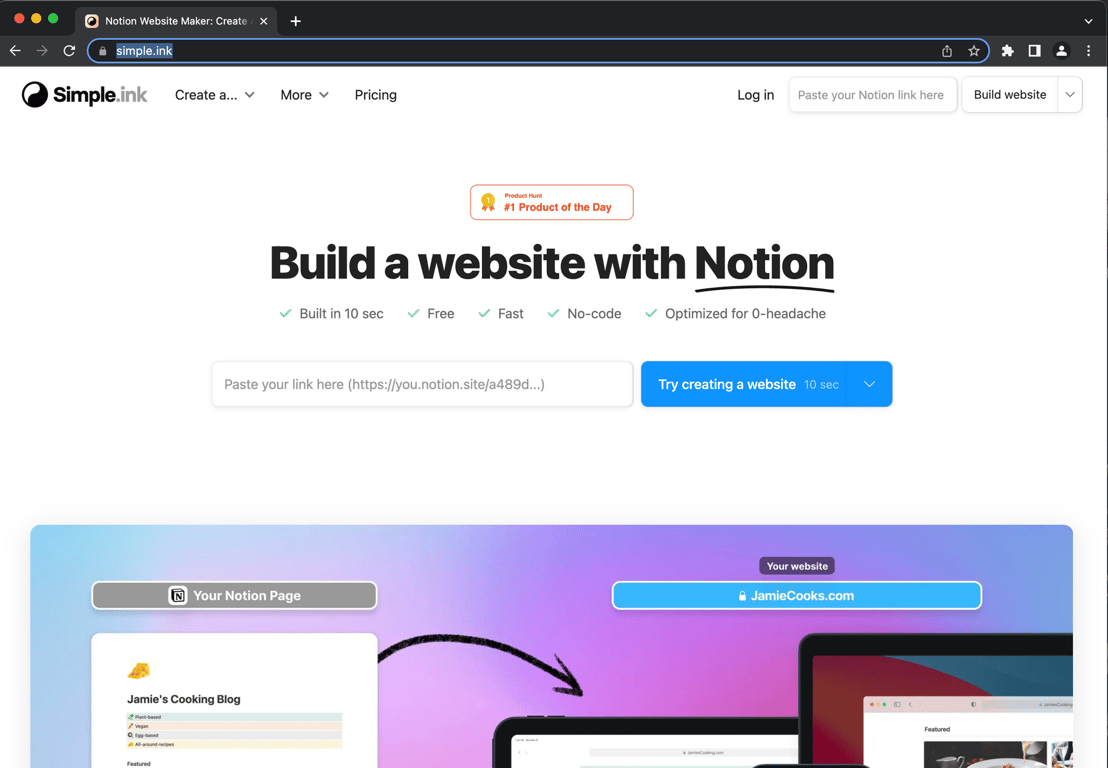 I've said this about a few other offers, but in terms of value proposition, this is the most clear I've seen. Build a website, do it fast, paste your link. Wow. The only small things I see - I don't really like the design of the gradient. It feels off-centre/crowded to my eye. I think adding the Notion domain to the left side would reinforce the reasoning. I also feel like the multiple device mockup on the right just make it feel a bit too crowded. I think I'd redesign and leave the iPad out, and make the url's a bit more obvious on the mockups. Additionally, this is VERY nitpicky, but it bothers me the database items on the right don't have icons for each sub-page. On the checkmarks on top, I would also like to see something about SEO rather than optimized for 0-headache.
Anyway, to be clear, best value proposition for new users I've seen. Clear benefits outlined. If you scroll, there are 30+ user testimonials and a full dashboard.
Just look at all this social proof -
More testimonials than I've ever seen.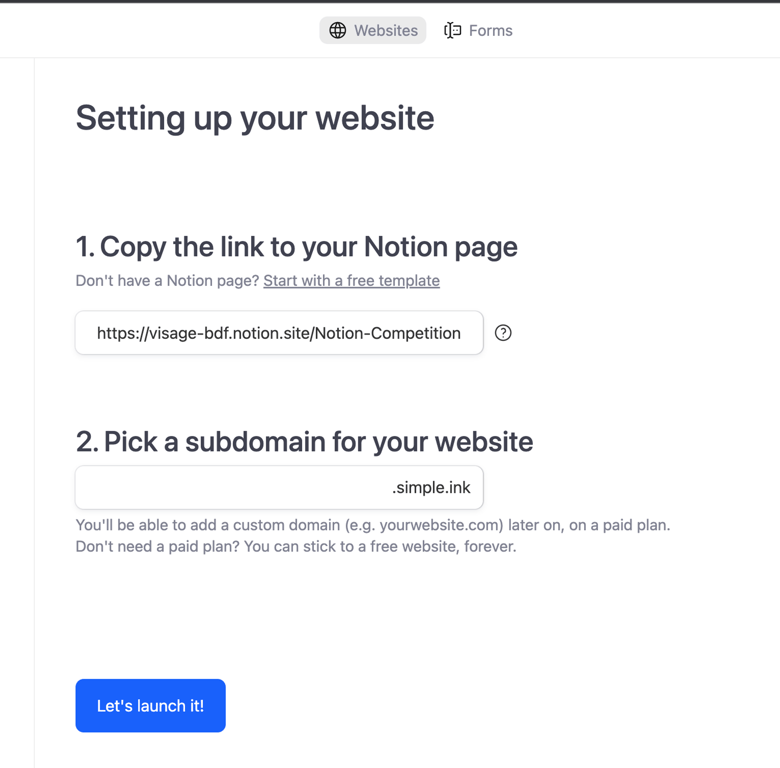 Pretty standard signup form after I threw my Notion link into the main page. I didn't know they did forms, so I clicked forms and broke something…
After clicking back into the form and adding my url, Let's Launch it!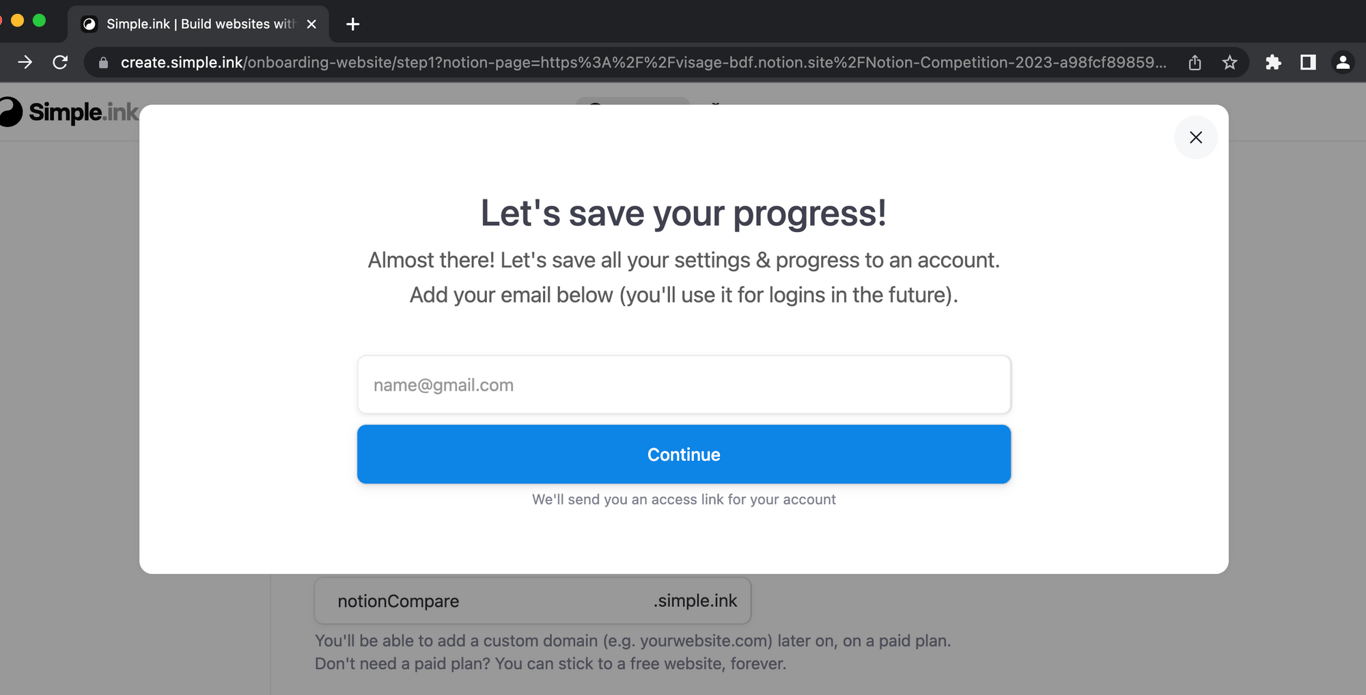 Entered email, also pretty standard customer info capture. I appreciate that this didn't ask for my first and last name. 🙂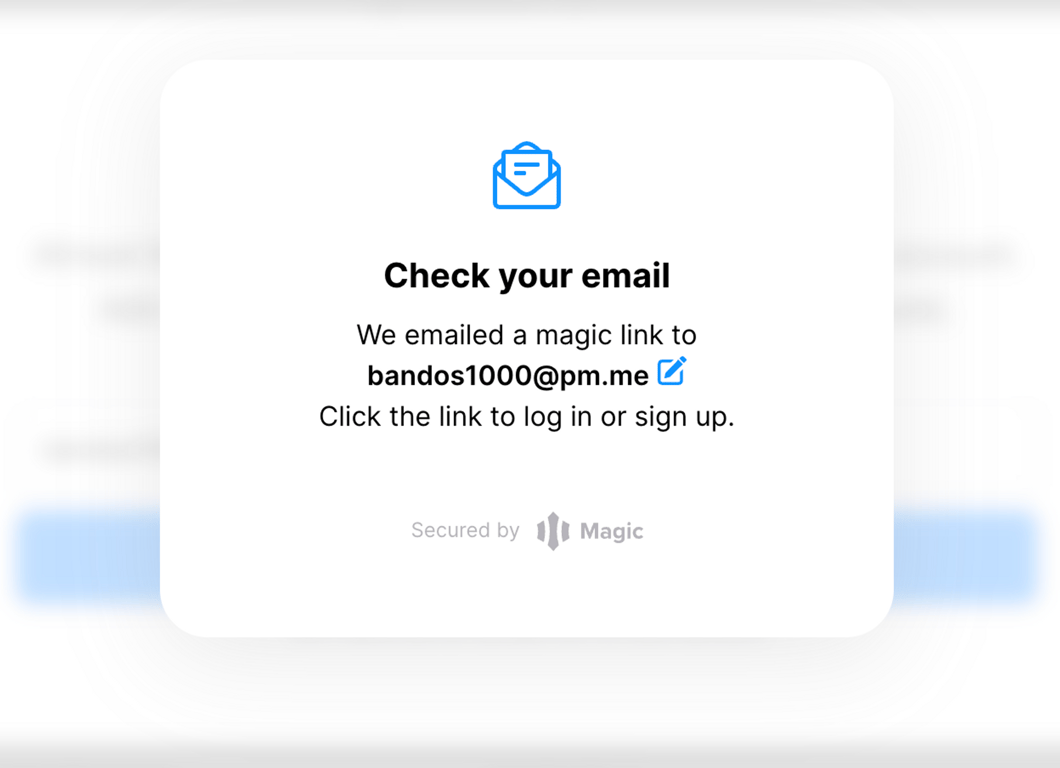 Closed out the tab, went to my email and clicked on the email -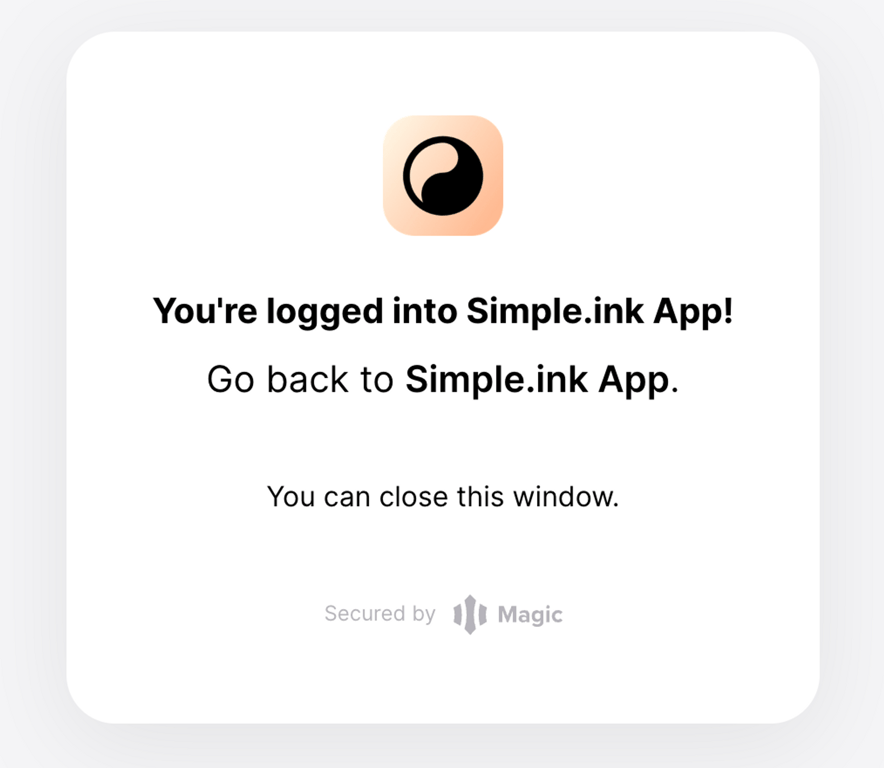 Oops. I closed out the
Simple.ink
tab. Going back to the main website, and doing the magic link process again. (When I logged in the second time, it turns out there was an animation on the magic email step that said 'Don't close this tab', but it takes 2-5s to transition, so I didn't see it.)
Ok, logged in.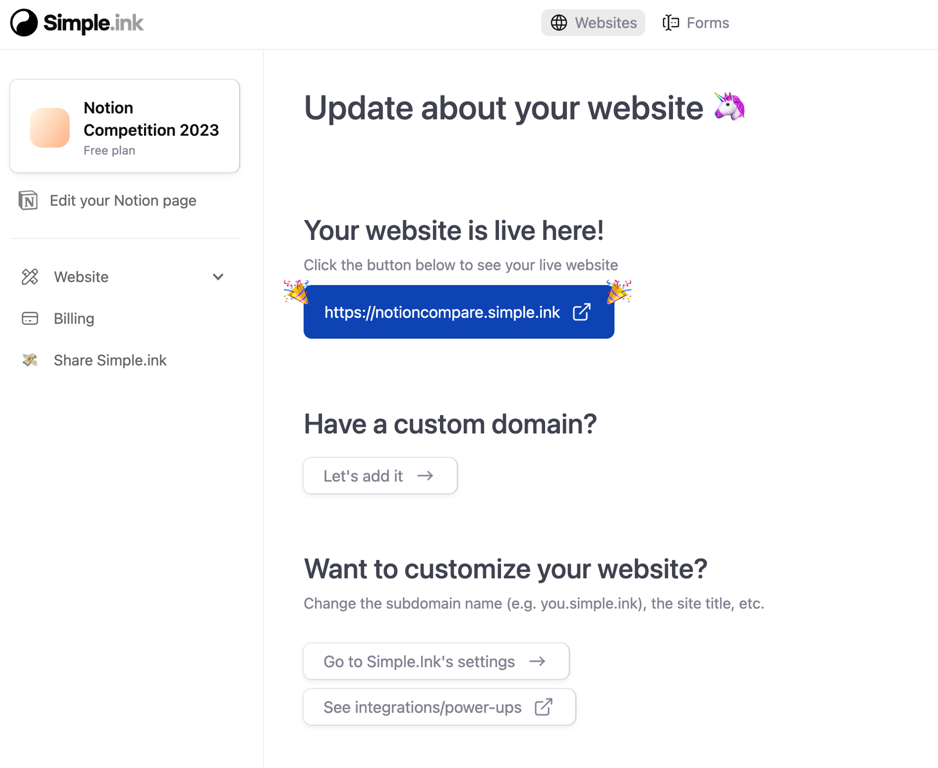 Dashboard…and we're (hopefully) live!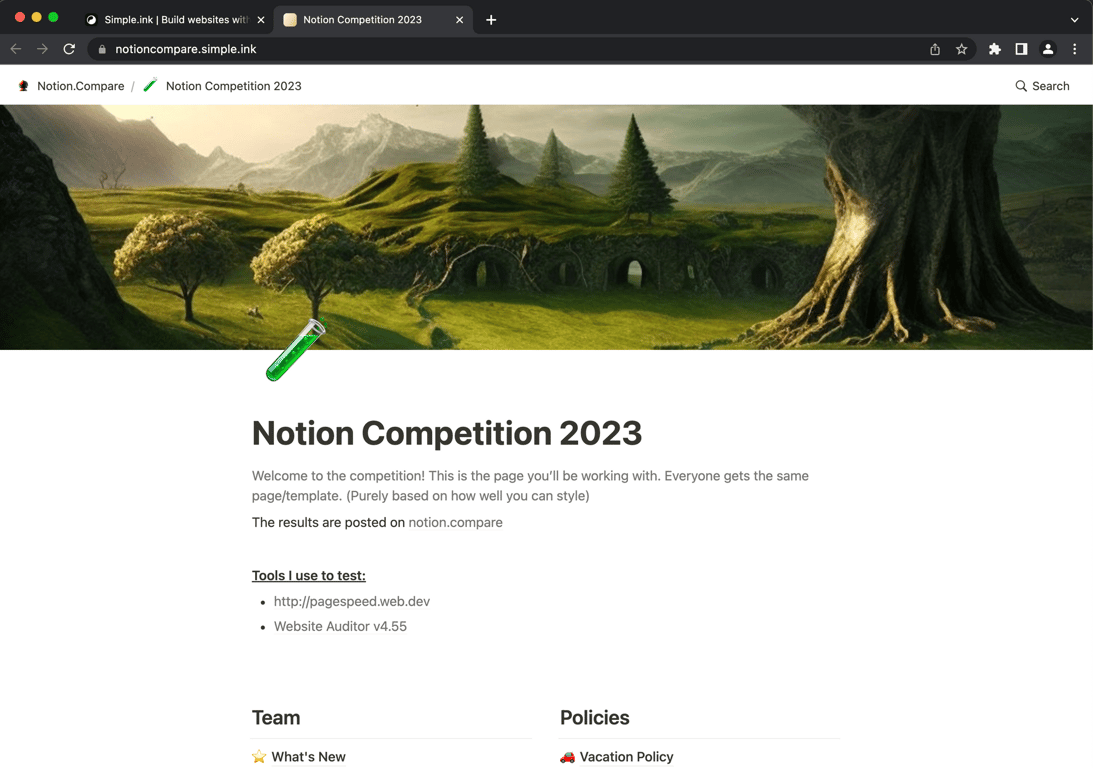 Awesome. We're set. Took about 1-2 minutes, it would have been 30 seconds without my tab closing habits. 🎉
I was really impressed by the dashboard…attention to detail? Not sure what to call it. I can see how this tool has so many testimonials. As you can tell in the Gif above, each small feature is thought out (dark/light mode to reflect user settings? Impressive.), even down to the video and text guides being embedded in the page. (Rather than the typical 'open in new tab' link approach. It felt like using an Apple Device in 2018. Simple and elegant settings.
However…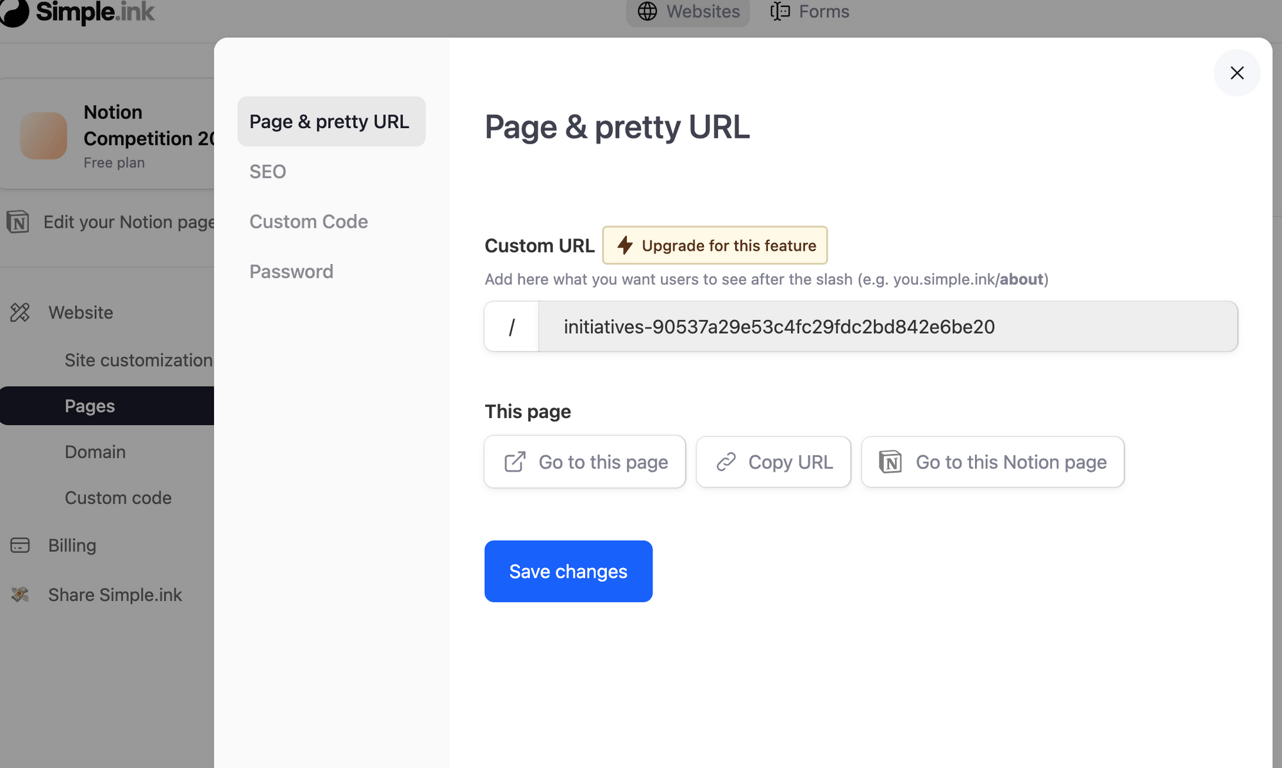 Clean URLs are a paid feature. I complained about this a bit in
Oopy
, and will say the same here. I think this should come as a default, as this is a primary driver for me to switch from the Notion Share links. If this is a paid feature, I understand, but I think at least the free should automatically pull page titles to make the links look cleaner. (I'd upgrade to choose my own words where I want shorter domains.)
Password protection is also paid, as it should be 🙂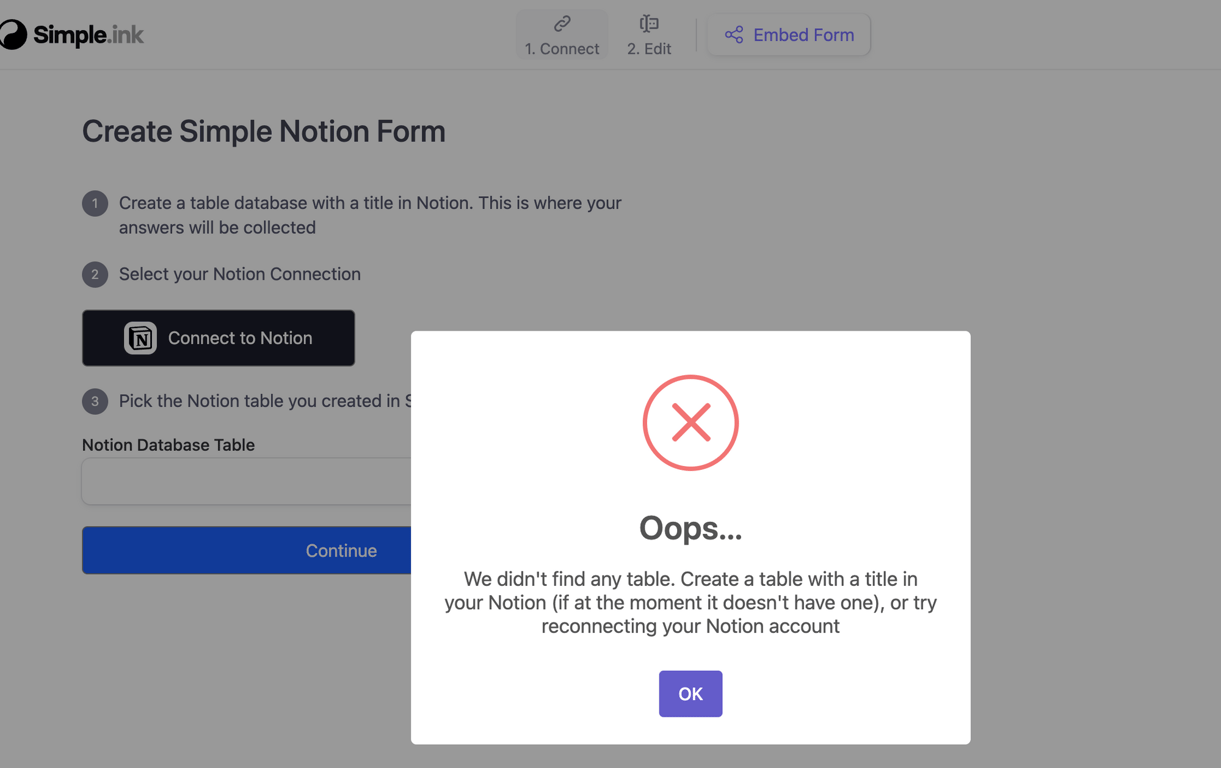 I did give the forms button a click, but it threw me an error after connection. I think I have a table gallery in my page (to hold all the comparisons), but not sure if that's accurate. Not going to dive into testing this due to the initial error.
Time to audit!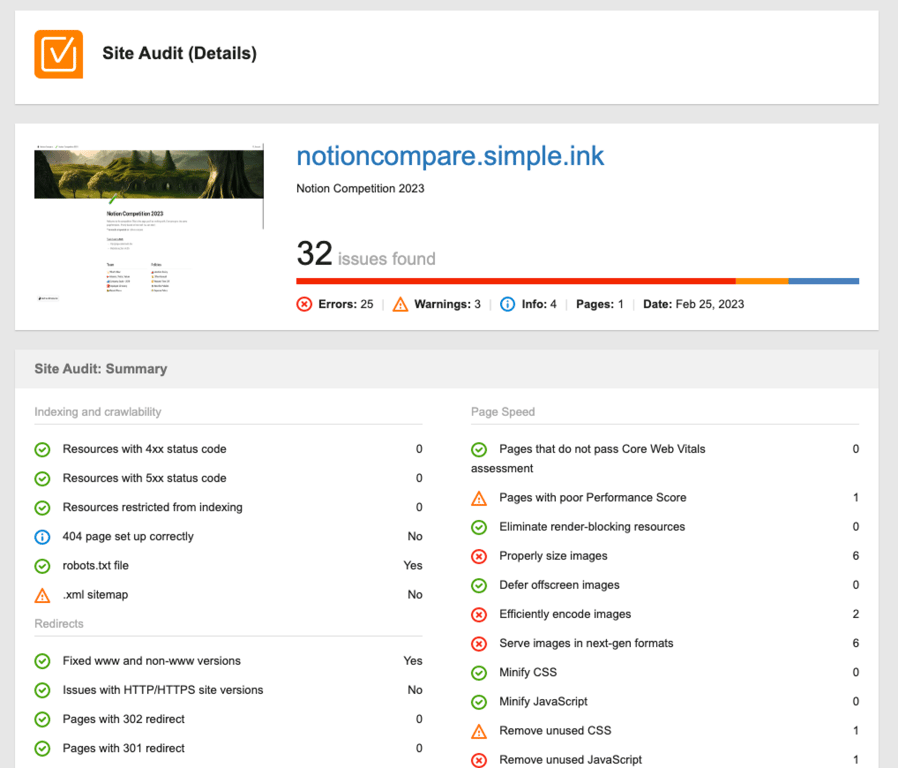 Did pretty well comparatively, but I believe this was only scanning the top level site. (None of the subpages.) This seems to be (to me) due to the way domains are setup. The error that concerns me most isn't in this screenshot, but it scored poorly on "Avoid enormous network payloads."
In terms of speed -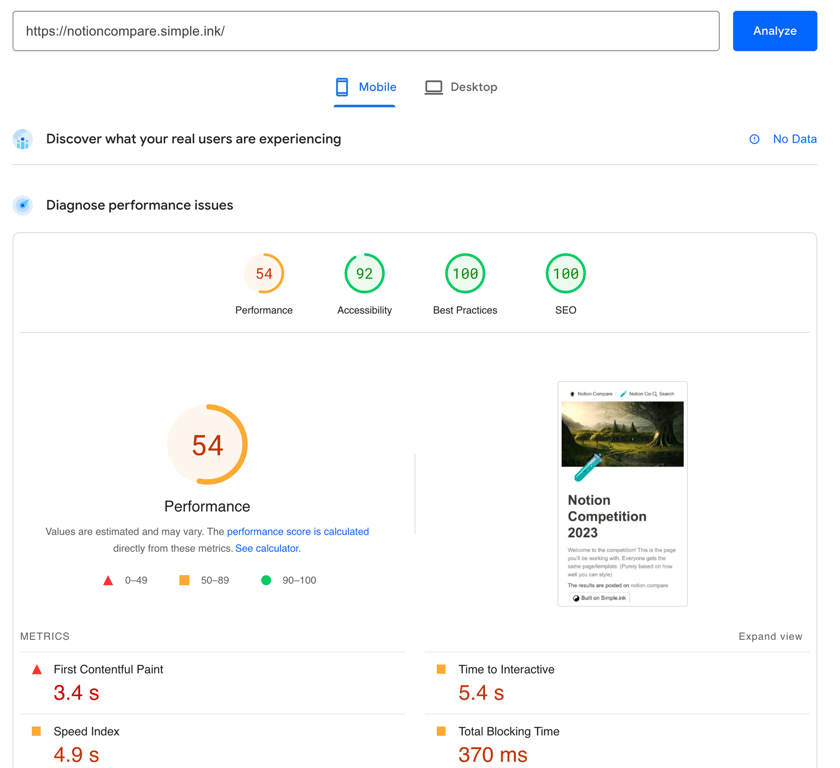 It didn't do much better. Just above the red, a bit scary at $12/domain.
In summary, solid tool! It feels like there was an excellent limiting of scope (aside from Forms) to allow the features it has to be fluid. However, the performance and clean domains would be a dealbreaker for me and my use cases. I like to be able to share a page by typing it out, or saying it, this doesn't allow that.
I can't say I recommend this tool without knowing a bit more about what differentiates it from tools like
NotionLayer
..with a better price (literally 50% off), and slightly better audit performance, and clean domains. Just curious what the differentiation is. 🙂
---
Want this review updated? Or want to contribute? Get in touch with me on Twitter: @
Bandos_1000
Disclaimer: The information provided on this website is for general informational purposes only and should not be construed as medical advice, legal advice, or professional advice of any kind. The website owner is not a medical professional, and the information provided on this website should not be used as a substitute for medical advice from a licensed healthcare provider.
Affiliate Disclaimer: Some of the links on this website are affiliate links, which means that the website owner may earn a commission if you click on the link and make a purchase. The website owner recommends products or services that he/she believes will be of value to the website users, and any commission earned helps to support the website creator or team.
Copyright Notice: The content on this website, including text, images, graphics, and other materials, may be protected by copyright laws unless otherwise noted. The website user may not reproduce, distribute, or modify any of the content on this website without the prior written consent of any applicable parties.
Fair Use: This website may contain copyrighted material that has not been specifically authorized by the copyright owner. This material is made available for the purposes of criticism, comment, news reporting, teaching, scholarship, or research, which are considered fair use under copyright law. The website owner believes that the use of any such copyrighted material on this website constitutes fair use as defined by the law.
Limitation of Liability: The website owner is not responsible for any actions taken based on the information provided on this website. The website user assumes full responsibility for any consequences resulting from the use of the website. In no event shall the website owner be liable for any damages arising from the use of this website or the information provided herein.
Indemnification: The website user agrees to indemnify and hold the website owner harmless from any and all claims, damages, expenses, and liabilities arising from the use of this website or the information provided herein.